The hotel
Whether you want to indulge in the art of luxury travel for business or leisure, Sheraton on the Park is the ultimate luxury hotel for any sophisticated traveller. Enviously located in the heart of Sydney's CBD, Sheraton on the Park ensures guests have easy access to the city's most renowned bars, restaurants, entertainment complexes, shopping centers and of course, top tourist attractions. Overlooking Sydney's majestic Hyde Park, this five star hotel simply exudes luxury; projecting a contemporary feel infused with a timeless elegance.
This award wining accommodation is renowned for setting the benchmark for classic hotels in Sydney and provides everything you require for a sophisticated yet relaxing stay. With a strong emphasis on approachable luxury, the Sheraton has recently injected $40 million into refurbishment that aims to provide a 'home away from home' for those who are accustomed to living in luxury in their everyday lives. The Sheraton Club will highlight outstanding views over Sydney Harbour, Hyde Park and St Mary's Cathedral, to that it can be appreciated from both the lounge area and outdoor terraces. Sheraton's Gallery too is due for a revamp, amounting to almost $2 million in renovations and most certainly worth a visit after completion.
Food and drink
The Gallery: Sheraton features their sophisticated Gallery, where guests can indulge in the decadent high tea experience. You can expect to receive high-quality table service as you are served petite portions of gourmet delicacies and a range of fine-handcrafted desserts and pastries on a stylish 3-tier cake stand.
Feast restaurant: Enjoy a vibrant yet refined fine dining experience at Sheraton's own signature Feast restaurant featuring an international seafood buffet prepared a la minute by Culinary Chef's.
Sheraton Club: When residing at Sheraton, becoming a Sheraton club member is an absolute must. Allow yourself to be treated like royalty as the exceptional Club Concierge staff remain stationed for your service at all times. Indulge in complimentary continental breakfasts and afternoon tea along with evening drinks and canapés. All complimentary meals feature endless supplies of delicious freshly cooked buffet style food that allow you to feast like a king and embrace the royalty within.
The Conservatory: The chic Sheraton Conservatory bar provides the setting for a relaxing yet classy night out in the heart of Sydney's bustling CBD without compromising privacy or comfort. Whether you plan to unwind or socialize with friends, the bar accommodates for all, with stylish private seating areas, stunning views from the outdoor terrace and of course, plenty of fine food and drink options. As the conservatory bar is ranked in the top 10 for best wine bars, be sure to order a glass of vino and try it for yourself.
Rejuvenation day spa: Sheraton's 'On the Park rejuvenation day spa' is designed for luxurious relaxation. Pamper and spoil your self at the hands of experienced staff who specialise in aromatherapy, beauty therapy, and massage therapy. The spa boasts a grand terrace with stunning views over Hyde Park, a striking rooftop swimming pool, jacuzzi, sauna and steam rooms, along with a fully equipped state of the art gym.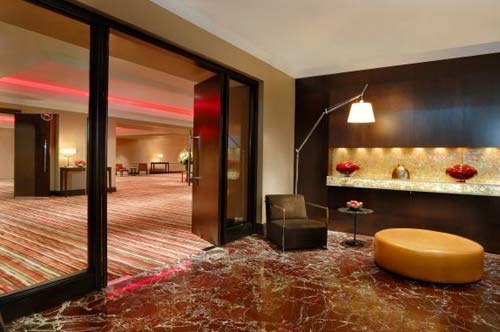 Business meetings: If you are travelling on business, the Sheraton certainly has you covered, from easily accessible boardrooms, private rooms and luxury suites to a glamorous Grand Ballroom for functions and events.
The room
The Sheraton boasts 558 luxury guestrooms and suites to reflect the hotels classic grandeur. If you are lucky enough to reserve the 'Deluxe Terrace Suite' you can expect a luxury experience at its peak, that is, luxury on steroids. Sheraton is known for their impeccable service, welcoming their guests with a bottle of Moet, fine chocolates and complimentary Sheraton Club access on arrival. Their unparalleled service allows for individual privacy. You can choose to laze in your spacious lounge area furnished with luxuriant sofa and chairs or enjoy the sensational view over Hyde Park from your own private terrace. Being spoiled with a lavish black marble bathroom, Hermès toiletries, luxury linen and even a BOSE sound system; you will quickly discover that this is a luxury experience like no other.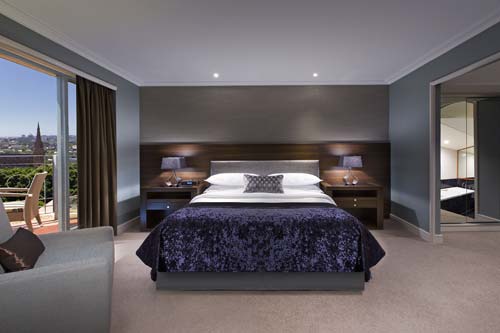 Highlight
While the Sheraton provides a luxuriously high-end hotel stay, the highlight would certainly have to be the provision of excellent customer service, with 24-hour reception and support staff. Though one would expect a certain standard of customer service for a hotel of this caliber, Sheraton truly understand their customers and take pride in ensuring that high quality customer service is delivered.
The verdict
For those looking for an unforgettable luxury experience in Sydney, look no further than Sheraton on the Park Hotel. Particularly with its 2018 face-lift just around the corner, it is truly an experience not to be missed.
Book your next luxurious stay with Sheraton on the Park : http://www.sheratonontheparksydney.com