Shangri-La in its fictional setting is a harmonious earthly paradise, majestically isolated from the rest of the world and where all inhabitants live well-beyond average human life-spans. A stay at Shangri-La Hotel, the Marina Cairns may not promise perpetual youth for all its residents, but in its splendour engulfs that sense of living in a 'world beyond imagination'.
Resting amongst the verve of tropical bliss on the Marina, you are home to many natural wonders that form the immense landscape and seascape of tropical North Queensland. None more spellbinding than the Great Barrier Reef on your very doorstep. Waking up in lush comforts and looking out across the Marina's waterfront, Shangri-La Hotel, the Marina can again be re-imagined under the guise of this utopia.
The Executive Marina View Room
Comfort is amplified further once you enter the golden circle and become a Shangri-La hotel exclusive member. This gives you exclusive access rooms like the  Executive Marina View Room with uninterrupted views of the Marlin Marina. This room is spacious and sophisticated in design with local artwork engraved, plush amenities (such as a pillow menu and 800-thread-count 100% Egyptian cotton sheets) and modern desirables like an in-house movie channel and high-speed wi-fi. Further membership benefits include 15% off flexible rate, two for one breakfast and undercover secure parking.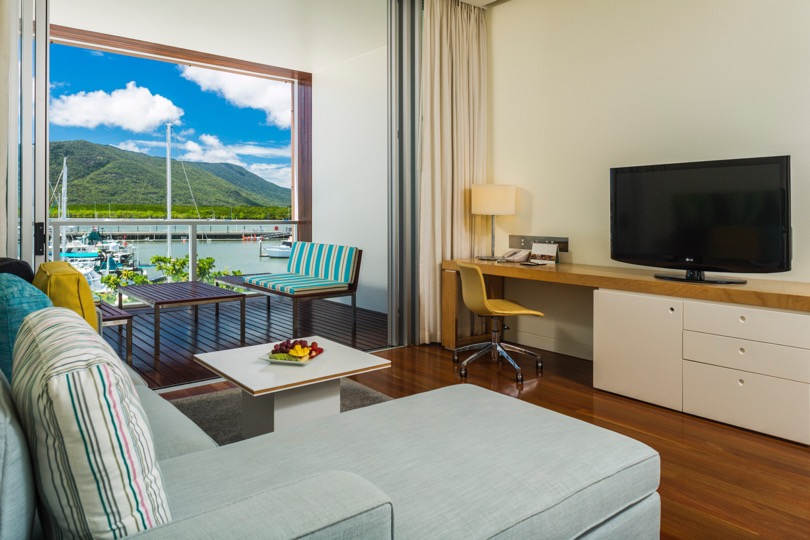 With Summer well on its way, why not check out some exclusive offers here at Shangri-La Hotel, The Marina Cairns including Dining, Room and Adventure packages and find out what it means to be a Golden Circle member.
More than a Hotel
With Shangri-La hotels being the multi-national name for luxurious living, the Marina is no different. Unparalleled beauty is not restricted to balcony views of the majestic seascape, but also includes stunning glances of the Cairns city skyline, the hotels tropical gardens and Trinity Bay. Shangri-La Hotel, the Marina Cairns presents the ultimate X factor in being much more than just a luxury hotel experience, but a treasured event space with facilities catering toward every need. Whether it be that all important business conferences or that special someone celebrating a wedding, Shangri-La compliments all occasions with customised meeting spaces and uniquely themed experiences.
To request a proposal, simply click here and provide as much information as possible.
Things to see & do
Cairns being the adventure oasis of the Southern Hemisphere and home to several of the world's natural wonders, it is naturally a haven for the discerning tourist and many Australian's who have yet to experience this tropical euphoria. Having a heli-pad very close by and a proficient concierge desk on-site be sure your adventure begins and ends at Shangri-La Hotel, the Marina Cairns with the courtesy hotel pick-ups and drop-offs.
Be correctly informed about the right snorkelling or scuba diving experience for those heading to the reef. For those visiting the oldest living rainforest in the form of the Daintree, find out what trips have the greatest offerings when speaking to the local concierge team.
Dining & Hospitality
Not every voyage to Shangri-La Hotel, The Marina Cairns needs to be adventure-filled. You are also welcomed into a tranquil oasis where health, leisure and relaxation can all be enjoyed. The five-star facilities come with a health and fitness club, poolside bars and restaurants and extra services such as shoe-shining and a business centre.
Shangri-La Hotel, is very much self-sufficient with a mouth-watering buffet breakfast or a la carte breakfast and an all-day dining menu at the vibrant Restaurant and Bar,  The Backyard. If you aren't up for exclusive in-room dining, head to the Backyard for al fresco surroundings and a unique dining experiences where you can watch signature dishes being prepared right in front of you, whilst also taking in the breathtaking waterfront views.
With an array of appetites to please, there are several dining options to choose from within walking distance along the water front with Waterbar and Grill and Vivaldi's Restaurant amongst the favourites.
The Verdict
You're doing more than feasting your eyes when you stay at Shangri-La Hotel, The Marina Cairns, you are literally being immersed into a way of life that doesn't fancy limitations. Living alongside one of the world's hottest touring destination points, Shangri-La Hotel is the perfect couples retreat, a traveller's dream hide-out and a staycation a family will speak about for a long while.
Book your experience here