There are countless people out there today working hard to start their own business. Start-ups are in abundance today, with companies appearing from every which way. But what exactly is it that differentiates the success stories from the others? What did those entrepreneurs do to excel above the rest?
One of these success stories is from founder of Disrupt Sports, Gary Elphick.
The premise of Disrupt Sports is simple: custom made sports gear done your way. Disrupt Sports stocks products from surfboards, to yoga mats, to equipment for ball sports. You choose what you want, and then custom make it how you like it, without paying any more than retail prices. But Gary needed more than to just invent the idea to make it a true success. Gary saw a gap in the sports market, and he took advantage of it.
Since starting, Gary has watched his company grow from a small website built to test the market and demand for custom-designed sports products, to the hugely successful company it is today.
But Gary's journey wasn't always smooth sailing. Before Disrupt Sports took off, he left his six-figure income job and failed at two other start-ups. His resolution? Resilience.
"Start-ups are as much about the journey as it is the end result…Running a start-up is like doing an MBA all day every day; you're learning and growing forever."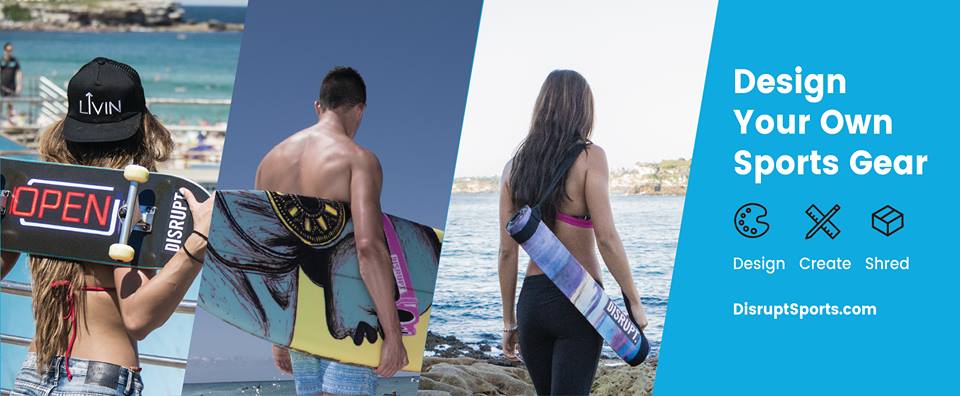 Today, Disrupt Sports is the current Australian New Online Retailer of the year, and Gary expects the company to only grow more. Gary is one of the many start-up companies dedicating their business to an exclusively digital store. It is this focus that was what gave him his title as one of 2017's Top 50 People in E-Commerce.
"The major thing I learnt looking back was that this is a process: idea, customer discovery, sales, development, customer discovery, development, sales, and repeat and repeat. Your business idea when you start will not be the same as when you finish, it will look the same but be quite different…You learn to think about really focusing on your core IP, the part you can do that no-one else can do, focus on that use other services and platforms for everything else."
Gary implements a number of methods and practices that made his store stand out. From his manufacturing on demand, his partnering with a 3D printing company and his manufacturing techniques, Gary is changing the way the retail industry works. Not only does the customer have the ability to be a part of the manufacturing process, but it also greatly decreases the company's carbon footprint.
Today, Gary leads as an example for every other budding entrepreneur. For all those aspiring business people, he has this advice:
"Do it. Today, take your first step, carry out your first interview, go get your first customer and don't write a single line of code. Stop writing business plans and reading blogs, the ONLY way to do this is to get off the sofa, get out there and go speak to people."
As a broad thinker and a leader, Gary still has great ideas for his company. Disrupt Sports is still growing. With future plans to open an office in LA, as well as to always implement new and exciting technology and even break a couple world records.
To find out more about the leading entrepreneurs in today's industry, check out what's in store for the seamless expo. Gary will be speaking at the Seamless Expo held on May 10th-11th. He will be a guest speaker on the panel discussing the introduction of Amazon into Australia, as well as hosting his own discussion on last mile manufacturing. To find out more, head to the Seamless Expo website, and download the brochure for free.