Exploring the unexplored awakens the wanderlust within us, leaving us longing for more countries to explore, more cultures to immerse ourselves in and more memories to make.
Statistics show that Australians are avid globetrotters, spending an average of $15,000 on travel each year. But 22% are being forced to compromise on their travel expenditure and experience, simply because they're tight on funds. It's easy to put off adventuring because you don't have the money, but the truth is that the experiences that we collect along the way are invaluable. Companies like NOW FINANCE can provide a quick, easy, transparent way to check your credit rating and finance your next adventure.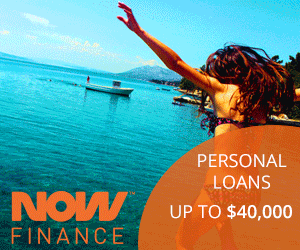 Travelling can be an incredibly fun and exciting experience, but research suggests that it's also highly beneficial to our physical, mental and emotional wellbeing. Here's why:
It's good for your heart.
Travelling abroad is good for your mind, soul and body. A study from the Global Commission on Aging and Transamerica Center for Retirement Studies, in partnership with the U.S. Travel Association, showed that traveling actually improves your health.
The study found that women who vacation at least twice a year have a significantly lower risk of suffering a heart attack, than those who only travel every six years or so. Men who do not take an annual vacation are 20 percent more at risk of death and 30 percent more at risk of acquiring heart disease.
Don't follow the map, follow your heart!
It helps you find a purpose.
Getting lost is one of the best ways to find yourself. As you travel, you're exposed to a much larger spectrum of experiences than you would be in your everyday life. This new perspective opens you up to new concepts and ideas, which can help clarify your life's purpose. You never know what you might discover with a new sense of purpose and direction.
Lose yourself, find your purpose.
It relieves stress.
While organising a holiday or trekking through a new country can be a stressful experience, traveling has actually been scientifically proven to dramatically lower our levels of stress.
According to one study, three days after taking a vacation, travellers reported feeling less anxious, more rested and in a much better mood. Not only do we experience these benefits while we're travelling, but they've also been shown to linger for weeks after the trip ends.
Take care of yourself and take a vacation.

It makes you more creative.
Experiencing unfamiliar places, people and cultures pushed us to be more resourceful, open and creative. In fact, a number of studies show a concrete link between creativity and international travel. But if you're travelling alone, the key to getting creative is engaging with other cultures.
Someone who lives abroad and doesn't engage with the local culture will likely get less of a creative boost than someone who travels abroad and really engages with the local environment.
Get cultured and get creative.
It makes you happier.
Having new exciting adventures and being away from the stresses of home, work and relationships is sure to make us happier. A Cornell University study showed that people experience a direct increase in happiness from just planning a trip, or returning home from one.
Three days after taking a vacation, travellers consistently reported feeling more rested and less stressed. The study found that the anticipation of taking a vacation is far greater than the anticipation of acquiring a physical possession. Thus the benefits of traveling abroad begin well before the trip does.
It's so easy to get caught up in worry about our lives, careers and money. But getting away from this monotony, even temporarily, gives us a far positive outlook on life. NOW FINANCE can help make your travel dreams a reality. Get lost to get happy!
Check your personalised rate in minutes.
Disclaimer: This editorial is of a general nature only and does not intent to provide any financial advice. CrowdINK's employees, representatives and associates do not endorse any product or service listed or advertised and does not warrant that the product or service is fit for its intended use, is accurate, of quality or value, or otherwise is appropriate in the circumstances. The user accepts sole responsibility and all risk for using the information. The user must exercise all necessary caution and investigate fully for themselves any product or service listed or advertised. CrowdINK does not accept any liability for any loss or damage whatsoever which may arise as a result of using this web site or any of the information.