The voice of Sven from Frozen is my favorite gay character on TV.
Let me clarify.
Jonathan Groff, the voice of every kid's favorite Nordic singing sensation, holds a place just as dear in my heart for a very different character.
On HBO's Looking, Groff plays Patrick, one third of a trio of best friends navigating life in San Francisco as gay men.
From the show's inception, and tragic cancellation, critics couldn't seem to break free from a constant comparison to other beloved 'pals living city life' television shows.
Dubbed (wrongfully) the "gay Girls," Looking never truly received the credit it deserved.
The show centered on Patrick, a 29-year-old video game designer and his college friend/roommate Augustin and Dom, a one-time hookup turned lifelong friend.
What, to me, was so groundbreaking and frankly refreshing about this group of men, was that their 'gayness' was never their defining characteristic.
So often in media today we are presented a gay character who might as well be dressed up in drag.
Hear me out.
We are so used to accepting the flamboyant gay best friend for comedic relief or crying over a Lifetime movie about a southern boy being disowned by his religious parents that we forget, in today's modern society, a large majority of homosexual men are simply leading a "normal" life.
HBO's Looking filled that hole on the silver screen with thirty beautiful lo-fi minutes of Patrick, Dom, and Augustin working, playing, and falling in love in California.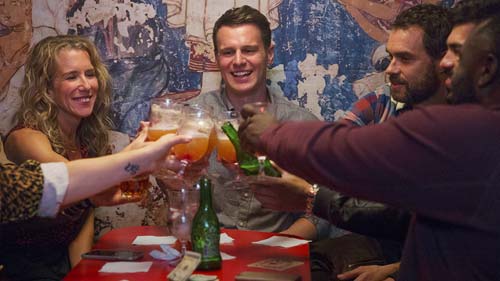 It's not to belittle or criticize the shows that do follow those all too familiar narratives, but it is important to note that Looking was groundbreaking for a much more subtle shift in the LGBT conversation.
Creator Michael Lannan and Director Andrew Haigh made a decided move when they paced the show with a slow, character-building melancholy that for a lot, didn't quite add up to the flashy scenario they might have envisioned when reading, 'gay dramedy in San Francisco.'
Instead of forcing each plot line to center around the fact that the characters were homosexual, the story arc followed everything from the romantic to the trivial parts of their day to day lives.
It never ignores their sexual orientation, but it doesn't exploit it either.
For some, this equated to  boredom. However, I think if some of those critics were honest, they may admit it's because they were waiting for Dom to be the victim of a homophobic rant from a stranger after a night out or for Patrick to not be invited to his sister's wedding due to his 'lifestyle.'
But this never happens.
Patrick brings a date to the wedding, and Dom is busy trying to open a restaurant.
We are so quick to sensationalize the life of gay men we rarely let them just live it.
The sex scenes in Looking were graphic and sensual, as is the HBO way, but they weren't there for a shock and awe factor, they were merely a part of the plot line.
The more intimate moments were the ones showing moments of tears or rejection or fear or embarrassment.
Looking was by no means a perfect show. It certainly fit into the Girls dynamic with its portrayal of white 'privileged dysfunction,' and Patrick's babbling self-indulgent immaturity left a bit to be desired.
Yet, you never felt, as you might for Hannah, Shoshanna, or Jessa from Girls, any sense of disdain towards them, only mutual frustration or sympathy.
To have an audience root for these guys, even at their worst, is a true testament to the flawless character building on behalf of Lannan and Haigh.
We have come a long way towards gay acceptance since the likes of Will and Grace first came on the air. Even in the time Looking premiered and ended, gay marriage was legalized in America.
Patrick and his friends are not a new kind of gay man, but their show was a new kind of gay television and for that it should be celebrated, despite its hiccups.
And, even though my heart was broken by it being pulled, for those of you about to binge watch – as you should – HBO did greenlight a movie finale to wrap the two seasons.
If you're looking for a new take on gay cinema, this show's for you.