When you're planning your trip to LA, you might not necessarily be thinking about museums and art galleries. Don't be fooled, LA has one of the most impressive museums in town in the form of The Broad.
A contemporary art museum in Downtown LA, the Broad houses one of the most amazing private art collections in the world. Best of all, it's housed in an uber cool, funky purpose-built building that has the architecture world in a spin.
Given a trip to Downtown LA is now a must on your to-do-list, consider taking in the Broad when you visit.
The Broad: The Low-Down
The Collection Is Private, Part of Eli and Edythe Broad's Own Collection
As an Australian (or anyone for that matter!), this is incredible on so many levels.
Clearly massive art lovers, they've taken art appreciation to a whole new level.  It's not all "theirs," but rather they set up a foundation so the public can have access to and appreciate art as well.
Known as the Broad Art Foundation, the Broad is made up of a combination of the Foundation's and their own personal collection.  Since they started collecting art some five decades ago they've amassed more than 2,000 pieces.  And it's growing weekly.  They have a borrowing system where they lend art to galleries all over the world so they can share their collection with others.  What great people.
I wonder if they ever dreamed they'd amass such a collection? And the collection is amazing.  I studied art at school and don't get me wrong, I really like it, but I'm not one of those people who can name famous artists − especially contemporary ones − like I'm naming rock bands or fashion houses. Mention Andy Warhol and, of course, I'll know him.  Doesn't everybody?  And don't his paintings belong in some fandangled New York gallery rather than part of a private collection? (I guess they do now!)
They Funded (and Built) the Building
To house art that they've collected that they're sharing with us. Yes, we're talking about that funky building.  And the building is beyond impressive.  The photos look incredible enough but up close − and when you're inside it − it's jaw-dropping.
The building itself is worth going to see.  Full credit to architects Diller Scofidio & Renfro and executive architect Gensler. (I actually think this has now passed the Guggenheim − and architectural wonder − as my favourite museum).
  Check out the Special Installation on the Ground Floor
It's an Infinity Mirrored Room, a mirror-lined chamber housing a dazzling and seemingly endless LED light display. A 45-second visit is enough to blow your senses out of the water.  It's so unique, especially because you're the only one in the room. This installation finishes in October 2017.  At the same time a broader exhibition featuring Yayoi Kusama's work is planned − can't wait.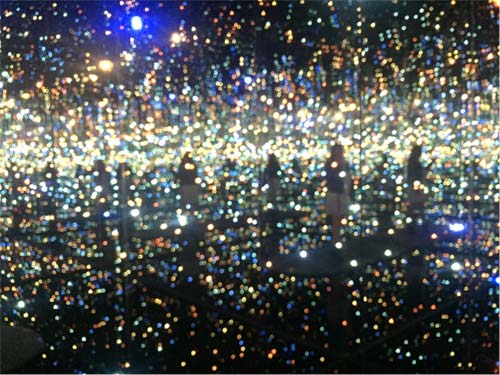 Next Door is the Frank Gehry-Designed Walt Disney Concert Hall
It's in amazing company.  For some philanthropic and art loving trivia, Eli Broad was the founding chairman and is a life trustee of The Museum of Contemporary Art in LA (which is across the road). He was a visionary behind the development of Grand Avenue (where The Broad is based), and he spearheaded the fundraising campaign to build the Frank Gehry-designed Walt Disney Concert Hall. Talk about an art over-achiever!
Pop in next door for a free tour while you're in the area.
 The Food is Amazing
The food options in Downtown LA are varied and offer great choices for any budget.
Where to eat
My number one choice is the signature restaurant as part of The Broad, Otium. Even now as I type (and I've eaten, I'm not hungry) I am salivating. The menu is so fresh and the food so innovative, light but filling and totally satisfying. It's designed to share and you are going to want to try as much as you can on the menu.
Best of all, the ambience is warm, inviting and homely – with a twist of funk courtesy of the decor and building.  And the service echoes the warm feeling; the staff is nothing but friendly, knowledgeable and everyone we spoke to were happy campers.
A short walk from The Broad is the Grand Central Market, filled with hipsters and a solid selection of great food. The food is good and varied. Try Horse Thief Barbecue or Eggslut and you can't go wrong.
Where is the Broad?
The Broad is on 221 S Grand Avenue in Downtown LA.
General admission is free, but hop online and reserve timed admission tickets before you go (http://www.thebroad.org/visit/today). It doesn't cost anything and saves you waiting in a queue. The general admission queue also doesn't guarantee you to get in and is painfully long so just hop online.
How to get there
If you don't have a car The Metro stops nearby. For more information on routes and fares, click here.
If you're like most Los Angelinos and public transport isn't your thing, there's always the Uber option.  Or if you have a car because driving is more your thing there's parking right next door.  Be sure to validate your parking for discounted fees.  For more info on parking, click here.
Where to stay
There are some great hotels in Downtown LA but I recommend staying in the more traditional LA hotspots, for example West Hollywood, Beverly Hills or Santa Monica.  For more information on Beverly Hills Hotels, follow this link.
People most often forget about art when they visit LA and Downtown often gets left off most people's agendas. But both are well worth including in your LA bucket list.