Kian 'Horisumi' Forreal is a Sydney-based tattoo artist whose expertise and passion lies within the traditional form of Japanese tattooing or irezumi.
Kian has been practicing his trade for 23 years internationally, and now bases himself in Sydney in his Surry Hills studio, Authentink. Originally from Canada, Kian has travelled and lived in Europe for several years and has had the opportunity to work with, and learn from, some of the industry's finest tattoo artists in studios around the world.
In 2013, after 20 years of incredible work and in recognition of his dedication to Japanese traditional tattooing, Kian was bestowed an honorary traditional tattoo title, Horisumi, in which, 'hori' means 'to carve', by a Japanese Tattoo Master Horiyoshi III.
That same year, and on the 20th anniversary of his tattooing career, he opened the doors to Sydney's latest and greatest Japanese and custom style semi-private tattoo studio, located in the heart of Surry Hills.
Kian says, "Opening Authentink is one of my proudest moments and the culmination of 20 years of hard work, world travel, study, discipline and perseverance. I believe that real tattooing should be individual and stand out from the crowd and the unique thing about Japanese art is that it is such a classic and timeless style which is built on tradition. Whether you're 20 or 60 years old, if you have a Japanese tattoo it'll never date you."
Kian is often asked about what people should consider before getting tattooed; here is his advice:
Are you doing it for the right reasons?
The 'right' reason is subjective however, following a trend, finding your inspiration on Pinterest, or copying a celebrity probably isn't a good place to start. On the other hand, if it's to mark a milestone, remember a feeling, or if you're travelling to a new country, by all means, go ahead. I'm all for spur of the moment tattoos, just make sure it's nothing foolish. And remember, it's very expensive and time-consuming to get a tattoo removed.
Is getting a tattoo classy?
As well as getting something you like, you need to make sure it's classy enough so that you can imagine yourself with it forever. This means thinking about what it will look like when you're older, in your work place, at the beach or when you get married.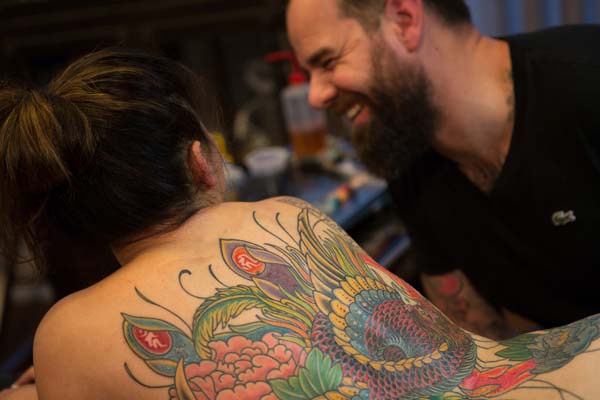 Have you really thought it through?
The ideal client is someone who has an idea of what they want but is also very open-minded and open to letting the artist work with them to create a unique design. It should be a collaboration between the client and the artist; the ideas you want to convey and then our artistic skill with design and placement.
You can use pictures as a reference but chances are if you've seen it on Pinterest, it's likely 20,000 other people probably have the same tattoo. Obviously this is going to happen with smaller tattoos but with big stuff, it's important to come up with something unique because it's heartbreaking to see somebody else with the exact design.
Have you identified the right artist?
You wouldn't go to a Thai restaurant expecting a good burger, so it's important to do your own research for an artist that does what you want well. If you want a small geometric black tattoo; find someone who specialises in that. With smaller more basic stuff, any accomplished tattooer should be able to do it properly but it's still good to find people who are passionate about what they do. Ensure you're not being pressured or if you feel like they don't know what they're doing, they probably don't.
Have you gone into a tattoo shop?
The internet is helpful, but you're not really going to know what's real and what isn't. There are a lot of styles − particularly with smaller tattoos − that are done just for photographs and once the tattoo heals, they don't look good. Go into a studio and chat to an artist in person.
To find out more, visit Authentink or book a personal consultation by calling   (02) 8399 1973