CrowdInk's Artist of the Week, Jan Matson, is at it again with an absolutely stunning collection of Animal prints, paintings, and décor that appear to hop right off the canvas.
Jan starts with, "a few lines loosely painted on canvas or board. Then thick, luscious oil paint is added, molded, and sculpted with a palette knife."
Perfect for nurseries, animal lovers, lounges, kitchens, and dining rooms, the nearly Pop Art animal prints mesh realism and whimsy beautifully.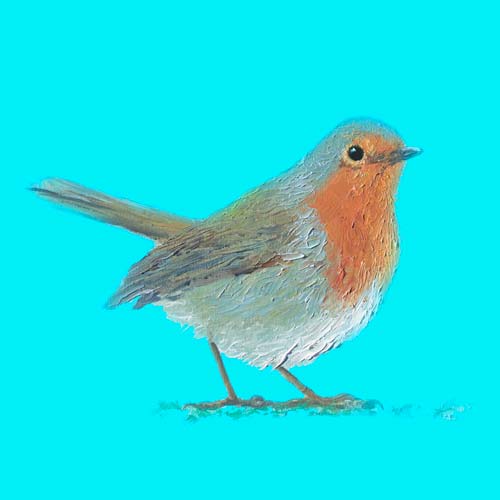 One of our personal favorites, the Robin Bird Painting, is a gorgeous example of texture done well. Laid against a bright blue background, this print is available as a tote bag, on apparel, and even as a SmartPhone case (our print of choice), so you can take this curious little bird with you! Though if you're in the market for the print, might we suggest displaying it near an open windowsill? You might find yourself with some aviary visitors!
While the eyes on this inquisitive Owl Painting on Yellow Background are sure to catch your eye, it's the beautiful use of texture variation that's sure to keep you there! From the smoothness of his beak, to the wispy, well, featheriness, of his feathers, this owl just pops right off the print.
If this Horned Cow Painting on Blue Background wasn't just made for a greeting card, we don't know what is! And speaking of texture, we just want to reach out and give this guy's head a ruffle. From long eyelashes that look like they might prickle to the sanded-down roughness of his horns, this painting takes us right to the farm.
This White Chicken on Yellow Floral Background looks like she's about to walk right out of the painting an on to your countertop. We love this print on a weekender tote bag – it's a perfect piece for anyone with children (and thus a million items the kids are going to need out of your tote bag.)
It's a hard call, but CrowdInk has decided that this Pink Pig Painting has our pick for most adorable. With an upturned snout, Jan has seemingly captured him in a moment of curiosity, sniffing at a camera lens, perhaps looking for some leftover morsel. Like all of Jan's other prints, this Pink Pig Painting is available as a print as well as a whole host of other décor!
Don't miss your opportunity to check out Jan Matson's lovely gallery here. And take an animal home with you – as print, towel, iPhone case, apparel, or even tote bag – without the responsibility of becoming a pet owner! Her art is also available here.