The five-star centrepiece
Cushioned neatly in between Orchid Avenue and the Surfers Paradise Boulevard resides the bespoke Hilton Surfers Paradise.  Providing a stylish new way to explore Australia's dynamic hot-spot, Hilton Surfers Paradise is the premier holiday stop for those wanting easy access to Gold Coast's best theme parks and shopping malls or to simply relax and unwind on Australia's favorite white sand beaches.
Hotel Rooms
Towering high over all the iconic points of the Hinterland and with spectacular panoramic glimpses of the golden shores, the Hilton Surfers Paradise Hotelprovides an unparalleled vantage point for all stunning stretches of the coastline and the city skyline.
Adding to the grandeur is large variety of accommodation options guests can pick from. The stylish 169 sophisticated Guest Rooms and suites are all equipped with state-of-the-art interiors and furnishings to resonate with the perfect escape plan of comfort and style.
The luxurious Crabtree & Evelyn amenities, Hilton serenity beds and 37 inch LCD are but the bare minimum of the hotel room interiors.
Executive Suite
For that heightened touch of sophistication request the Executive Room with balcony views. Entitle yourself with magnificent Skyline, Ocean or Hinterland views, and receive exclusive access to the Executive Lounge with daily continental breakfast, sunset drinks and antipasto to flavour up your stay.
With just one click of the MAGIC button located in every one of the guest rooms, there will be no waiting around with world-class concierge and front desk staff at your service every time.
Residences & Function Spaces
Hilton Surfers Paradise has set a precedent by being the first Hilton in Australia to also offer 220 spacious one, two, three and four bedroom self-contained residences. With spacious and versatile open-plan layouts, these residences are perfect for families or larger groups wanting a more homely feel before setting out to explore.
Bringing five-star sophistication to one of Australia's most dynamic cities,Hilton Surfers Paradise houses unforgettable experiences in the sophisticated Meeting and Function Rooms and stylish outdoor spaces with stunning backdrops of the city to enjoy in comfort from the deck or poolside on level one.
 Dining & Entertainment
Surfers Paradise is known for its dynamism with its bustling city and roaring night scene. This manifests itself here at Hilton Surfers Paradise with its three signature spots providing that five-star and completely personalized dining experience.
Make use of the bar and all the ample space on the The Deck at level two. Featuring four pools, a spa, sauna and that Metropolitan vibe this superb Oasis is the perfect meeting place for after-work drinks or after a warm day out on the beach.
Catch Restaurant
Overlooking the energy of Orchid Avenue and capturing the effervescent lifestyle of the Gold Coast, the fine dining atCatch Restaurant offers affordable cuisine with that coastal atmosphere. The brainchild of executive chef Kathy Tindall, this spellbinding seasonal menu with that subtle Asian influence and focus on sustainable eating will be the excellent topping to all visits to Hilton Surfers Paradise
See: Opening hours and menu
See & Do
With that surfer's lifestyle and stunning beach surroundings, everything for the Family to see and do is within short distance when staying at the ultimate family friendly holiday destination of Australia.
For those families seeking a thrill ride of a time Dreamworld theme park is always a family fun day out, along with the Paradise Jet-Boating to make the day zip by at a rate of knots.
Home to one of the largest shopping precincts in Australia, The Pacific Fair Shipping Centre is definitely a day fulfilled for that keen shopper hunting down the flash sale and the latest wears. Your journey to Hilton Surfers Paradisemay also be a therapeutic one of healing and the global sensation eforea Spa caters for all cleansing needs on level two of the Hilton.
Verdict
Expertly attended, masterfully designed and perfectly situated, Hilton Surfers Paradise is the right balance for that much needed vacation or business tip.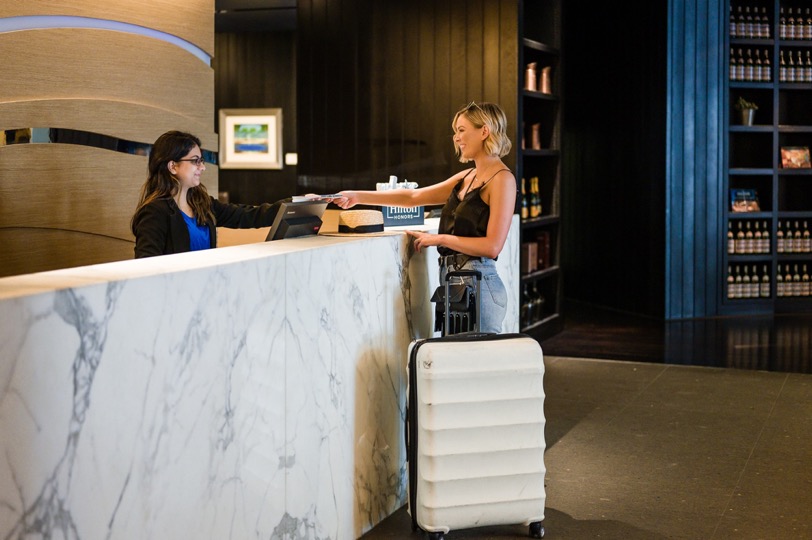 CROWDINK Offer: Treat your team to the merriest Christmas and book your party at Hilton Surfers Paradise with one of the Christmas in Paradise packages that start from $99 per person. For more information email surfersparadise@hilton.com or call 5680 8000.