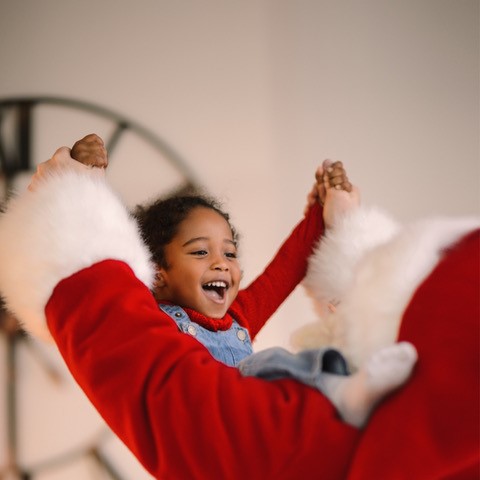 Melbournians are invited to experience the magic of a traditional Christmas when all the pomp and pageantry of the festive season returns to Greensborough Plaza, starting with a special festive parade from 10am on Saturday, November 19.
This year Greensborough Plaza's theme revives the essence of Christmas, with red, green and gold decorations and twinkly lights to adorn the halls of the shopping centre and create an ambiance reminiscent of a traditional Christmas.
A parade will herald the arrival of Santa Claus on Saturday, November 19, and will kickstart five weeks of festivities at Greensborough Plaza. At 10am, he will be joined in the celebratory parade with Mrs Claus and friends, who will lead him through the Plaza from the Main Street entrance to Santa's Kingdom located on Level 1, near Chemist Warehouse.
Other activities to be held in the weeks leading up to Christmas Day include Santa's Breakfast, Christmas-themed Children's Activities, a Christmas Wrapping Station, the Christmas Food Appeal, and Photos with Santa.
Christmas at Greensborough Plaza activities:
Santa arrival weekend
Saturday, November 19, 10am.
Children can walk with Santa, Mrs Claus, Rudolph the Red Nosed Reindeer and Frosty the Snowman in the official arrival parade.
The colourful, joyful and musical Christmas parade will also feature other favourite children's characters Elmo and the Cookie Monster, and will weave through the shopping centre, starting from the Main Street entrance on Level 3 travelling throughout the mall to Centre Court, located on Level 1, near Chemist Warehouse.
Christmas-themed Children's activities
Saturday, November 19, and Sunday, November 20
The fun continues for children after Santa's arrival parade with face painting, balloon modelling and other entertainment.
Activities will be located on Level 2, outside Toyworld, and Level 3, near Target.
Santa's Kingdom
From Saturday, November 19 at 11am to Saturday, December 24 at 5pm.
Children can meet Santa Claus and get their traditional photo taken with him at his Greensborough Plaza residence on Level 1, near Chemist Warehouse. Visit greensboroughplaza.com.au for session times.
Sensitive Santa Photos
Saturday, November 26, and Saturday, December 3, both from 8.30am to 9.30am
Two session times have been set aside by Greensborough Plaza for local sensory-challenged children so that they can have their traditional San
ta photo and avoid the crowds that can occur during standard sessions.
The Sensitive Santa Photo session is wheelchair-friendly, there will be no queues, and will provide a welcoming, magical experience for children who are sensory-challenged as there will not be background music, spotlights or noisy crowds.
Bookings are required. To book a Sensitive Santa Photo, visit greensboroughplaza.com.au.
Santa Pet Photos
Selected dates, from 5.30pm to 8pm/9pm
Pets can also get their special photo with Santa on selected dates during his time in Santa's Kingdom.
All dogs, cats, rabbits and most small animal breeds can be photographed, and costumes are encouraged.
Bookings are essential. Visit greensboroughplaza.com.au for session times, a list of conditions that pet owners must adhere to when bringing their pets into the centre, and to make the booking.
Christmas-themed Children's craft
Weekends from Saturday, November 19, to Sunday, December 18, from 11am to 3pm
Children can take part in free craft activities at the Christmas Gingerbread House on Level 3, near Target, to help them get into the Christmas spirit.
Each day will have a different activity for children to participate in, such as creating their own Christmas snow globe, bauble and Santa's Helper Christmas apron, or colouring in a Christmas stocking and elf mask.
Visit greensboroughplaza.com.au for details about each day's scheduled activity.
Community Christmas Tree Food Drive
From Tuesday, November 1, to Saturday, December 24
Greensborough Plaza is partnering with Diamond Valley Community Support for this year's Christmas Food Appeal, which aims to make a world of difference for individuals, families and pensioners who are doing it tough during the festive season in 2022.
The community can donate non-perishable food items such as breakfast cereal, pasta, noodles, rice, tea and coffee, canned fruit, vegetables, pulses, long-life milk, baked beans, tinned spaghetti, and spreads such as vegemite and honey.
Christmas treats such as Christmas cake or pudding, UHT custard or shortbread are particularly well received.
Items can be donated at the drop-off location on Level 1, near Coles.
Santa's Breakfast for children
Sunday, November 27, at 8am and 9am
Join Santa and his friends Rudolph the Red Nosed Reindeer and Frosty the Snowman for a special pancake breakfast for children to celebrate the festive season.
The Grinch also will make a special visit but will be spreading Christmas cheer by bringing a little gift for each child to take home. 
The breakfast will be held in the Food Court on Level 3 and will cost $5 plus booking fee for each child, with all proceeds raised to be donated to Diamond Valley Community Support to help those in need this Christmas.
Children must be supervised while allergies and drink preferences can be outlined in the booking.
Seats are limited so bookings are essential and can be made by visiting greensboroughplaza.com.au.
Christmas Wrapping Station
From December 1 to December 24
Shoppers can have their gifts wrapped within minutes of making their purchases at the Christmas wrapping station, located at the Customer Service Desk, Level 2, near Telstra.
Each small gift can be wrapped for a gold coin donation, with proceeds to be donated to this year's charity partner, Diamond Valley Community Support.
For more information about Christmas at Greensborough Plaza: greensboroughplaza.com.au