Artistic sentiment expressed through divine fluidity.
Patricia Santoso is a central Sydney-based artist whose abstract work frequently captures compelling themes within a unique artistic technique.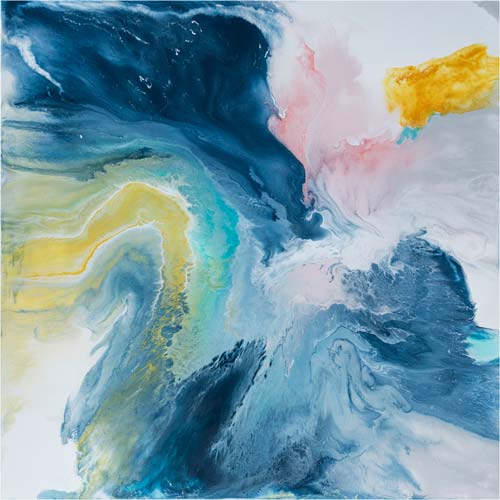 Over the previous months, she's been exploring the concept of "home" and an acknowledgement of belonging. This theme comes in the wake of her having recently relocated physically and, while her work is not necessarily concerned with portraying permanency, she is endeavouring to ascertain the sensations of comfort and togetherness that characteristically accompany the finding of one's way back home.
While a large majority of Pat's prior work was comprised of beautiful blue hues, this new series, while retaining grey and white for neutrality, has launched into shades of pink, aqua and yellow, each contrasting colour representing an individual member of her family. As a mother of three, Pat utilises the love she and her children share as a source of power and motivation, as she tackles the canvas and moves through the creative process. With so many young, energetic minds around, she admits she's always enraptured to hear their thoughts, as she routinely shares with them her artistic expeditions.
Pat's primary medium is resin, a synthetic liquid, which in addition to being used in the innovation of art, can also be applied as a topcoat or sealant over completed work to create a glossy, waterproof finish. Though she was working with resin as a covering some twenty plus years ago, only in more recent years has she been integrating it with inks and other mediums to create a fluid artistic expression.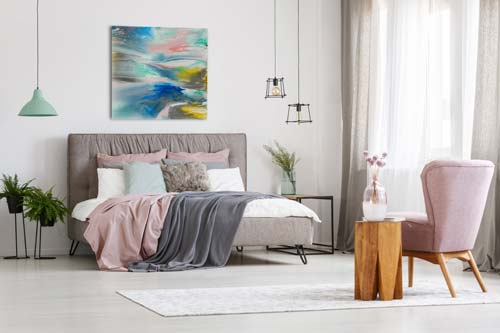 The incorporated involvement of movement has ultimately allowed Pat to depict the volatile nature of the external environment, emotional conditions and interpersonal relationships.
Interestingly, a Spanish psychology student and aspiring art therapist, currently residing in Germany, recently contacted Pat in admiration of her depiction of abstract psychological concepts.
In addition to her children, Pat is inspired further by meaningful experiences, whether day-to-day or momentous, often employing them as a means to formulate her pieces. Fascinated by exterior stories and internal dialogue, she cites the work of renowned Australian artist Frederick McCubbin as one of her first memories of artistic intrigue and inspiration, admiring his use of curiosity to evoke emotion.
To view more of Patricia's work, visit her website, Instagram and Facebook pages.