CrowdInk had the chance to sit down (virtually) with Julianne Bagnato, Owner and Operations Manager of Brae, the hillside restaurant that has been snatching up National and International Awards and Titles for the last two years. She talks about the Brae experience, what diners can expect (far more than just a hot meal), and about that X factor that has made Brae so massively successful, so quickly.
CrowdInk: What can diners (and especially those who stay in the guest suite) expect out of a Brae experience?
Julianne Bagnato: Brae is a place to escape the city, immerse yourself in nature for a day or two and indulge. Those who stay overnight have access to our 30 acres of vegetable plots, orchards and olive grove. After a leisurely breakfast of organic sourdough bread baked in our wood-fired oven, house-made preserves and other delicious bits and pieces sourced from the property and nearby, guests can don a pair of gumboots (which we supply) and explore the property, where they'll meet the happy chickens and find chefs and gardeners at work.
The guest suites are designed for relaxation with a Thorens turntable and record collection, comfortable Jardan sofa and views to the rolling hills of The Otways. Guests are invited to mix themselves a cocktail from the bar, sit back and take in the view.
CI: Do you have a dish that you were particularly proud to bring to table?
JB: The parsnip and apple dessert is a dish that's been particularly well received by diners, and is a long-time favourite of many staff.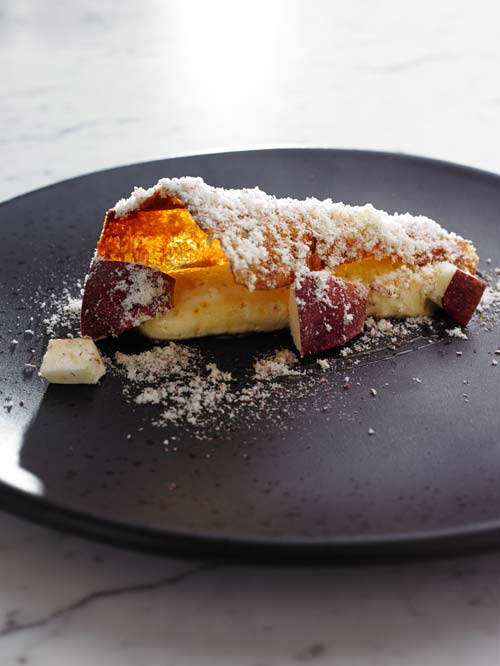 CI: Why do you think Brae Restaurant is super successful – Top 10 Restaurant in Australia (2016), Top 100 Restaurant in the world (2015)?  Is it the people, infrastructure, food, experience etc?  
JB: I think Brae's success is due to many varied factors, but the primary one is the dedication and sheer hard work of many individuals working together towards a common goal. Dan (Hunter) is a talented chef with a very clear vision, which he communicates consistently and clearly to his team. But he's just one of more than twenty individuals who curate and deliver the experience to diners. It's this ability of the team to work together towards a common goal, from management to chefs, floor staff, gardeners, kitchen hands and housekeepers that gives Dan's vision life.
Of course, being located on a beautiful property in one of the most picturesque, fertile and easily accessible regions in the state doesn't hurt either. Sharing this with our diners, both through the food they eat and the experience they have while on the property, is something that we all enjoy and I think is unique to the Brae.
To plan your experience with Brae, click here.