BRP launched the Sea-Doo Spark watercraft in 2014, creating a new category destined to re-"spark" the industry. The Sea-Doo Spark is an entry-level watercraft that is lightweight, easy-to-ride and affordable, making the dream of fun in the water possible to everyone now.
Powered by the new Rotax 900 ACE in-line three-cylinder engine, the Sea-Doo Spark watercraft is compact, designed with an all new Exoskel architecture consisting of a lightweight, durable and recyclable Polytec material, making it easy to manoeuvre and extremely playful. The most accessible new watercraft on the market, the 2014 Sea-Doo Spark watercraft, costs nearly 40% less than its closest competitive model and is the most fuel-efficient watercraft in the industry.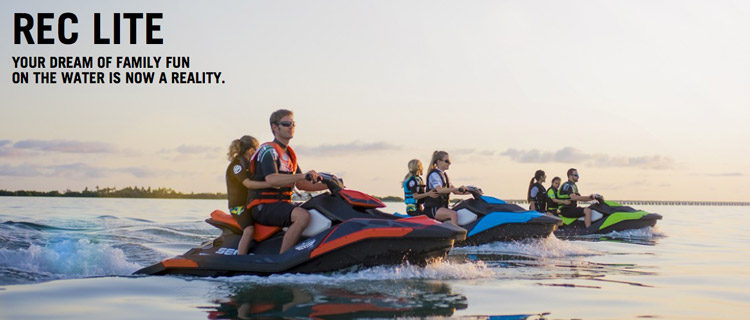 With the latest technology and design in the watercraft industry, it is no surprise that the new Sea-Doo Spark has been internationally recognized with awards in both Marine and non Marine Industry including: Australian International Design Awards (AIDA) – 2014 Good Design Award Red Dot – 2014 Design Award Boating Industry – 2014 Best New Product Edison – 2014 Silver Edison Award for Innovation and Engineering NMMA – 2014 Innovation Award.
The popularity of Spark has gone beyond expectations. Around the world, users love the Spark concept; its affordability and ease of use, the ease of ownership, the maneuverable and agile ride experience, and the fact it is available with the first and only on-water braking system from the proven leader in the industry.
For summer 2014/15, BRP have responded to high demand from consumers, with product now immediately available through local authorized Sea-Doo dealers. The new Sea-Doo line brings a burst of fresh colors with many customization options that will excite the most selective rider looking to enter the watercraft market and wanting to personalize it. It offers a playful experience on the water, accommodating up to 2 or 3 people, making it perfect for everyone. Its light weight also means it is easy to tow.
"On the international side, the new Sea-Doo Spark models should reach out to a much wider base of younger customers," said Chris Dawson, vice-president and general manager, International division. "With the addition of the Spark model, we now have indisputably the most complete line-up in the industry. We are confident that we will see a Sea-Doo wave around the world."
The complete 2014 Sea-Doo line-up features a watercraft for every rider style and experience level. The Sea-Doo GTX Limited 215 model joins the luxury segment and becomes the most powerful, non-suspended model in that category. BRP remains the only manufacturer to offer the industry's exclusive Intelligent Brake & Reverse (iBR) system in every watercraft category. BRP's exclusive iBR technology offers riders more peace of mind with a braking system that allows them to stop up to 30 m (100 feet) sooner than any competitive PWC3.
"BRP teams have really come together to demonstrate their capacity to innovate and contribute again to foster the strong reputation of our Sea-Doo" said José Boisjoli, president and CEO. "I am confident that with the new Sea-Doo Spark models we can recreate the golden years of the PWC in markets worldwide with cleaner, more fun, more affordable and easier-to-use watercraft."