For any artist, seeing their hard work framed and taking pride of place on the wall is a moment of celebration. Whether it's on the walls of a gallery, hung up in someone's home, or a feature piece for an office, seeing your own creation on display is a feeling that is second to none.
But if you're an artist, there's more value to having your artwork on display in situ than you might realise. Showcasing your art in situ (in the appropriate place or situation) – that is in a complementary manner that highlights the art, as if it were already displayed in someone's home or office – is one of the best ways you can make people take more notice of your art, so we're making the case for why more artists should be showing their art in situ.
If you are a buyer looking at endless pieces of art, trying to figure out what to buy and where you would put it, sifting through image after image can take the inspiration out of buying art. It can become difficult to imagine just how the art would fit into a space.
By showing your art in situ, potential buyers can begin to imagine how a piece would work on their wall. Whether it's for a bedroom, a family room, or a meeting room, showcasing your art in situ gives buyers more of an idea how your art can be displayed in their space, giving them more of an inclination to buy.
Any designer or decorator will tell you that the perfect piece of art ties a room together, drawing the eye to a feature piece that accents the rest of the furniture around it. If you showcase your art in situ, it means buyers can see the full potential of your work; it will become the talking point of any room.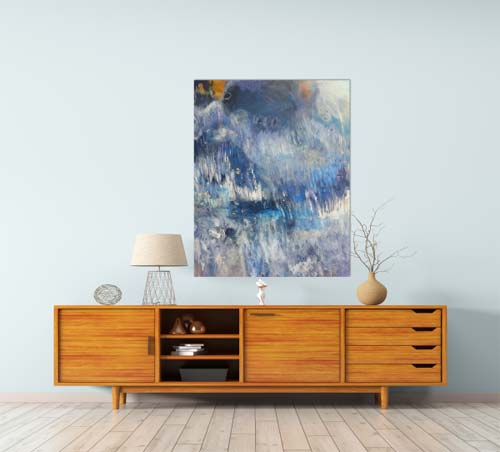 A buyer is more likely to notice the true beauty of a painting if they can see how it brings together a space, and can understand just how well it would work in their home.
Because people can start to imagine how your art will work in their space and because it's drawn attention to your art, you're more likely to sell your art. In situ also helps us process a whole lot of information about proportion and size faster and more effectively than numbers. As much as people love beautiful things, it always helps if they can see how your paintings will actually fit into their home or office and inspire their everyday life. By displaying your art in situ, you're increasing the chance that a buyer will see your artwork's full potential, thereby increasing your chances at selling your work.
Check out a range of in situ art at Art Lovers Australia