Whether you are celebrating a special occasion or in need of a spectacular date night idea, look no further than the private dining experience offered by SEA LIFE Melbourne Aquarium. Best reserved for a night out with someone special, private dining at Melbourne's only underwater restaurant well and truly feels like a money-can't-buy experience.
SEA LIFE Melbourne Nestled on the corner of Flinders and King Streets in the heart of Melbourne's CBD and close to major train stations such as Flinders Street and Southern Cross, SEA LIFE Melbourne is home to a range of exhibits and experiences that will transport you to a magical underwater world.
While SEA LIFE Melbourne is full of incredible activities that cannot be found anywhere else in Melbourne, it also offers unique experiences that you wouldn't expect to find at your typical aquarium. Five events spaces, ranging from the Oceanarium to the Coral Atoll, provide a spectacular location for functions and formals, yet it is the private dining experience that proves  the aquarium is more than a marine wonderland.
For that special someone
With fine food, complete exclusivity and breathtaking aquatic views on the menu, it is hard to imagine a more intimate dinner date than SEA LIFE Melbourne's dining experience. The evening begins with an after-hours, self-guided tour of the aquarium, before you and your loved one are treated to a three-course meal complete with wine, beer and soft drinks. The best bit? You get an area of the aquarium all to yourself, and can choose from one of seven spectacular marine backdrops.
The Shark Tunnel provides panoramic ocean views, while Mermaid Garden immerses you and your loved one in an underwater wonderland. Shipwreck Theatre combines dining with the depths of the Oceanarium, while Yarra Vista goes above deck for an outdoor dining experience overlooking the Yarra River. You'll dine face-to-face with King Penguins in Antarctica, and only five metres away from Pinjarra the Saltwater Crocodile in Croc Kingdom. The multi-coloured displays of sea dragons and cuttlefish at Seahorse Pier provide a most romantic dining zone.
Fine dining experience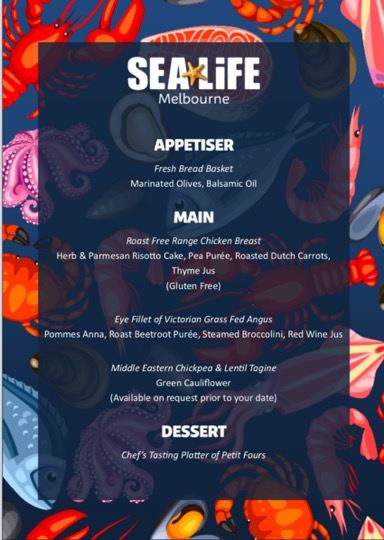 These stunning marine backdrops are complimented by a creative three-course menu for the ultimate dining experience. An appetiser comprising of fresh bread and marinated olives is the perfect foil to the three mains – these range from roast chicken breast accompanied by herb and parmesan risotto cake and pea puree, to an eye fillet of angus served with pommes anna and red wine jus, and Middle Eastern chickpea and lentil tagine teamed with green cauliflower. A selection of quality local wines, beer, cider and soft drinks round out the meal, with this spectacular dining experience finishing on a dessert of Chef's tasting platter of petit fours.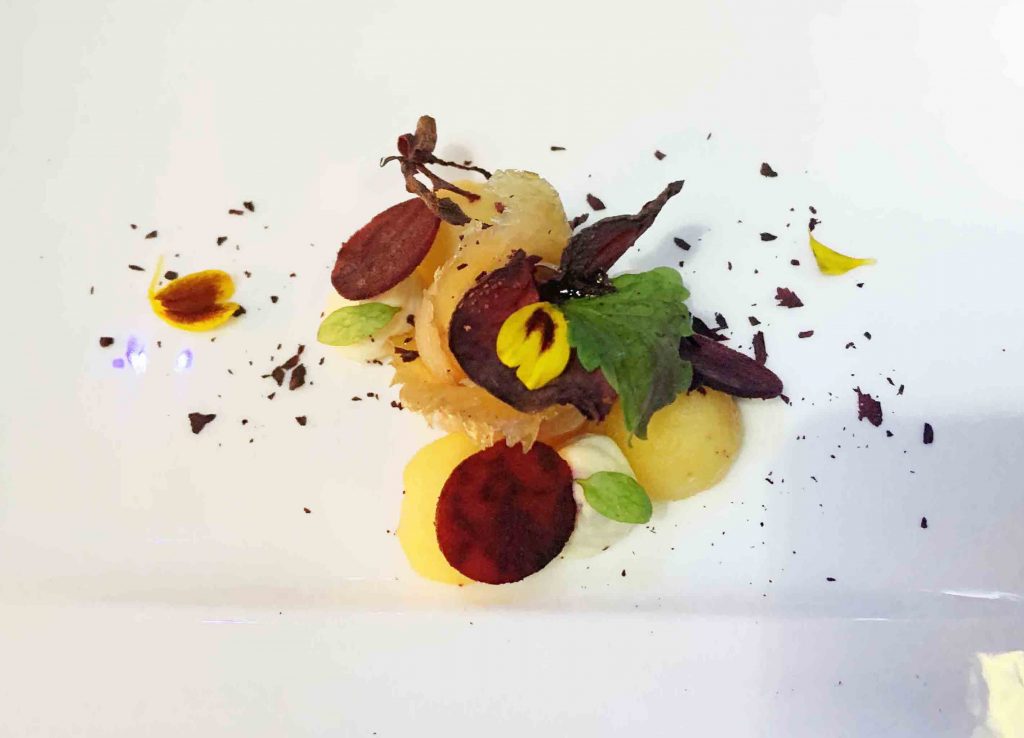 Head Chef of Events at SEA LIFE Melbourne, Jason Hofman, says that the private dining concept has been the perfect opportunity for his team to provide a special experience.
"Seeing the smile of satisfaction on the guests' faces after their unique experience is the most rewarding aspect of all and provides my team with a yearning for more," Hofman said.
With a new summer menu in development, Hofman and his team are committed to taking SEA LIFE Melbourne's private dining experience to even greater levels.
"My team and I would like to provide an even more personalised service by tailoring a unique menu package for each and every guest to indulge in."
Melbourne's best day (and night) out
A visit to the aquarium is a Melbourne must-do – where else can you walk with sub-Antarctic penguins, or dive with sharks and stingrays? Thanks to its private dinner concept, SEA LIFE Melbourne is now home to one of the city's most captivating dinner experiences.