Thousands of Australian businesses now selling on Amazon Marketplace to grow sales with customers at home and abroad
From today, customers across Australia can visit Amazon.com.au and shop from millions of products across more than 20 categories with benefits such as everyday low prices and fast delivery options. Amazon.com.au features a wide selection, including Books, Video Games, Consumer Electronics, Sports & Outdoors, Tools, Toys, Home Improvement, Beauty, Clothing & Accessories, Shoes and Amazon Devices, such as our Kindle E-reader and Fire TV Stick devices.  Customers can enjoy free delivery on eligible orders above $49 that are sold by Amazon.  A one-day delivery service is available in select areas across Australia.
"Focusing on customers and the long-term are key principles in Amazon's approach to retailing," said Rocco Braeuniger, Country Manager of Amazon Australia. "By concentrating on providing a great shopping experience and by constantly innovating on behalf of customers, we hope to earn the trust and the custom of Australian shoppers in the years to come."
The selection at Amazon.com.au includes millions of products offered by well-known Australian brands, as well as small and medium-sized Australian businesses selling on Amazon Marketplace. Globally, approximately 50 per cent of Amazon's total units come from Marketplace sellers.
"Small businesses and retailers across the country should be excited about Amazon launching in Australia. While it can be a challenge to ensure potential customers find your website, Amazon already has hundreds of millions of customers around the world searching for new products. The visibility and access Amazon provides is an enormous opportunity for all businesses," said Adam Mills, Chief Technology Officer and Founder of Australian business KoalaSafe which has sold its products on Amazon Marketplace since 2015.
Customer orders will be fulfilled from Amazon's new fulfilment centre in Dandenong South. Amazon also has corporate offices in Sydney, Melbourne, Perth, Brisbane and Canberra which are home to more than 1,000 employees. Amazon Web Services launched an Australian region in 2012 and the Australian Kindle Store opened in 2013.
"Over time, we will create thousands of new jobs and invest hundreds of millions of dollars in Australia," said Rocco Braeuniger. "The result will be an ever-improving customer experience driven by the regular introduction of new products and services that we hope customers will love."
Australian customers can conveniently shop anywhere, anytime through the Amazon Shopping app, and desktop and mobile browsers. Customers can also track orders, contact customer service, read product reviews, or simply browse the growing selection at the time and place that suits them best. Customers can start shopping by downloading the Amazon Shopping app or visiting www.Amazon.com.au.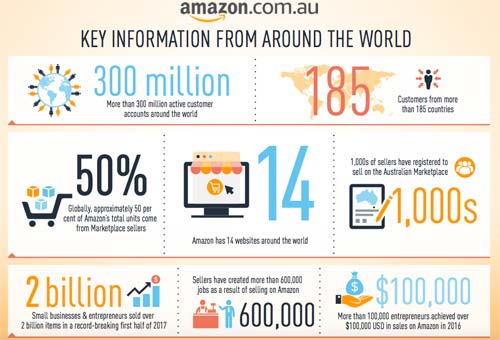 Australian customers can also access Prime Video and Twitch Prime today.  Customers can enjoy exclusive Amazon Prime Originals, The Grand Tour Season 2 premiering December 8, as well as popular movies and TV shows as part of Prime Video and receive free in-game loot, like exclusive characters, boosts, skins, and more as part of Twitch Prime.  Both benefits are available for an introductory price of $2.99 USD per month, to find out more visit www.primevideo.comor www.twitchprime.com.  Amazon expects to launch Prime shipping benefits in Australia in mid-2018 and from today Australian customers can register at www.amazon.com.au/prime for more information about Prime. Prime offers tens of millions of members around the world an unparalleled combination of shipping, shopping, and entertainment benefits.
Great products at great prices 
Amazon is offering products from Australian brands such as Bonds and Sol-Sana, as well as big brand favourites such as Puma, Lego, L'Oreal and Sonos.
Examples of great deals and everyday low prices from across our category range at launch include:
Amazon Marketplace offers growth opportunities for Australian businesses – big and small
Amazon Marketplace connects customers to millions of unique products and helps sellers reach more than 300 million active customers worldwide. In 2016, more than 100,000 small businesses across the globe achieved sales of over US$100,000 through selling on Amazon. Small businesses selling on Amazon Marketplace globally have employed more than 600,000 people to support their Amazon activity.
Australian businesses can sell their products, be that one or many thousands, to customers across Australia and around the world through Amazon Marketplace with no product listing fee. Amazon offers businesses access to easy listing tools, payment processing and credit card fraud protection, promotional features to help them get discovered by customers and reports and analytics to improve selling.
Further information on Amazon Marketplace can be found here: https://www.amazon.com.au/sell.