If you're looking to sell in the current property market, you probably know just how difficult it can be to match the competition. When you want to get a foot up on the property ladder, it's worth considering renovations or home DIYs to help add value to your house, so that you can sell at the price you want. These upgrades don't come cheap, but often it's these upgrades that will wow buyers and get your property sold sooner. If you want to add value to your house before you sell, keep reading to find out which renovations you should be investing in.
Kitchen renovation
Average Spend: $20,000 – $40,000
Any architect or interior designer can tell you that a kitchen renovation will set you back a lot of money, but it's worth every cent you spend. As the heart of the home, you want to make sure your kitchen is as inviting as possible. Prospective buyers will often head straight to the kitchen to check out the finishes, see the quality of appliances and decide whether or not it will work for their purposes. These appliances and finishes don't come cheap, but you can frequently make back double what you spent when it comes time to sell.
Average Spend: $15,000 – $25,000
If you're trying to sell your house with bathroom tiles straight out of the 1970s, chances are your home will linger on the market. These days, buyers expect their bathrooms to be sleek and modern and people are generally after high quality fittings from trusted brands. Size and layout of bathrooms are also key factors in salability — no one wants to be squeezing three kids and two adults into a poorly laid out bathroom every morning — so it's worth investing in reconfiguration to appeal to buyers.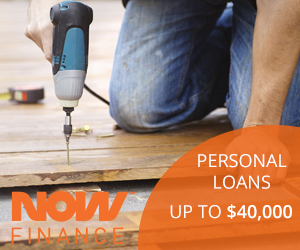 Repainting
Average Spend: $15,000 – $20,000
Homebuyers want to move into a property that feels fresh and clean. It saves them from having to deal with peeling wallpaper and old paint when they move in, and buyers will reward you with their willingness to pay more than they would otherwise. Consider repainting the exterior to up your curb appeal too, as first impressions are incredibly important for homebuyers. It might seem like an expensive investment, but a few licks of paint can go a long way.
None of these renovations come cheap, but they all offer fantastic return. Most people don't have this kind of money just floating around in their bank account, but personal loans can offer an easy alternative. Once you know the type of renovation needed to help sell your home faster, get your rates with NOW FINANCE in less than 3 minutes – it's much faster than watching paint dry!
Disclaimer: This editorial is of a general nature only and does not intent to provide any financial advice. CrowdINK's employees, representatives and associates do not endorse any product or service listed or advertised and does not warrant that the product or service is fit for its intended use, is accurate, of quality or value, or otherwise is appropriate in the circumstances. The user accepts sole responsibility and all risk for using the information. The user must exercise all necessary caution and investigate fully for themselves any product or service listed or advertised. CrowdINK does not accept any liability for any loss or damage whatsoever which may arise as a result of using this web site or any of the information.