Whether you're a fan or not, it's hard to deny the importance that abstract art plays in the contemporary art scene. Go to any gallery, museum or auction, and you are bound to find a painting that will grab your attention and have you pondering its meaning.
So because abstract art can be a bit of a mystery to the common human, here are 6 things you probably didn't know about it and that you can use to impress your friends next time you go to an art exhibition.
Abstract art is a visual language
Abstract artists use a visual language of shapes, colours and lines to create. Abstract Expressionists use this language to communicate their emotions and feelings without imposing them on the viewer.
And that's what's unique about abstract art: almost everything that could be literally interpreted is removed from the canvas, and the viewer is given the opportunity to use their personal experiences to bring the painting to life. This makes abstract work very subjective, and it explains why you and your friend might have contrasting opinions about that painting you find very moving, while she thinks, "her nephew could do that".
Jackson Pollock (1912—1956) is commonly considered a pioneer in abstract art
With his drip paintings and gigantic canvases, this American artist revolutionised the art world. His troubled life somehow helped him create work that had never been done before, leading him to quickly become a major figure in the art scene and become widely renowned for his unique artistry.
In 2006, Pollock's No 5 (1948), a canvas covered in drips of brown and yellow paint, was sold by Hollywood entertainment mogul David Geffen, for the sum of US$140m dollars, making it one of the most expensive paintings in history. The National Gallery of Australia purchased Pollock's last masterpiece, Blue Poles (No 11) for its collection in the 1970's and its value has skyrocketed!
There's a science that studies the effects of art on our brains 
Founded just over 10 years ago by neurobiologist Semir Zeki, neuroaesthetics is an emerging discipline that attempts to bring scientific objectivity to the study of art.
A number of studies that entailed the manipulation of objects depicted in a painting and the subsequent effect on the brain, found that our minds are constantly aware of the specific arrangement of such pieces within a painting, and can sense the artist's intention behind it. Thus, even if you think those lines and colourful squares of that Mondrian painting aren't telling you a story, subconsciously, they really are.
Science says it is possible to distinguish an artist from a non-artist
In a study by researcher Angelina Hawley-Dolan, a group of volunteers were presented with pairs of paintings — some being the creations of renowned abstract artists, and others the doodles of amateurs and chimps. In each trial, it was found that the general preference was inclined towards the work of real artists, leading scientists to believe the viewer can, in fact, sense and appreciate the artist's vision in their paintings.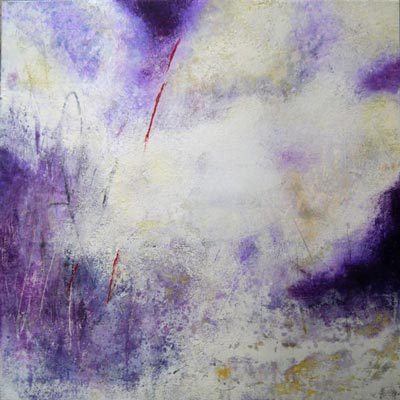 The most famous abstract expressionists had tragic ends
Pollock dealt with alcoholism most of his life, right until the day of his death, when he was involved in a single-car accident while drunk. Rothko, another significant figure in the abstract movement, committed suicide in his studio, after dealing for years with poor health and a failed marriage. Arshile Gorky shared a similar, if not worse, luck. Throughout the last two years of his life, his studio burned down, he got cancer, his wife left him and he got badly injured in a car accident. He committed suicide shortly after.
Thus, one could say that the troubled past of an artist is what contributes to their powerful work, their fame and the expensive price tag behind all their paintings.
It's a great investment for your house!
Investing in original, timeless abstract art will give any room an extra dimension and energy. The size, the colours, the shapes, the lines and the textures of the painting, are all features that you should keep in mind when considering the art to add to your space. You can go "matchy, matchy" with the surroundings or you can use the art work to make a statement. No matter how you decide to showcase it, it is bound to make an impression with your guests.
If you're feeling suddenly inspired and want to check out what Australian artists have to offer, head over to www.ArtLoversAustralia.com.au and browse through the multitude of talented artists. Who knows, your future pièce de résistance for your living room might be waiting for you there!