Sydney's CBD is well-known to bustling tourists for offering some of the city's best food and shopping experiences – but locals know that hidden away from the direct vision of travellers are secret spots tourists haven't made their own yet.
Here are just six of Sydney's best secret hangouts to discover next time you drop by:
The Secret Waterfall – Wattamolla, Royal National Park
There are very few things on this planet that can convince me to go on a nature hike. With a running waterfall and a lagoon connecting to a secluded beach, Wattamolla sits at the top of my short list and for all the right reasons.
This is the sort of quiet spot that comes with shallow, calm waters and a small beachfront – a hidden gem for visitors who find the crowds at Sydney's more popular beaches overwhelming.
2. The Secret Garden – Auburn Botanic Gardens, Auburn
Buried in Darling Harbour is a small, walled Chinese garden filled with the allure of waterfalls and exotic plants that frequently draw in travellers. But for those willing to leave the city behind, I recommend you catch the train over to Auburn's Botanic Gardens, stretching across an expansive lush parkland offering countless picnic spots and photos of natural beauty.
Here, you'll discover some of Sydney's most beautiful gardens, from the Sunken Rose garden filled with lush roses that bloom between October and January, to the Japanese Garden filled with cherry blossom trees that flower from August to September.
3. The Secret Beach – Milk Beach, Vaucluse
Nestled in the wealthy Eastern suburb of Vaucluse is a string of small isolated beaches facing the Sydney Harbour. By far the quietest and most breathtaking of these is Milk Beach, which offers uninhibited views of Sydney city. Here, you'll find the perfect hiding place away from the noise of the city, a space for modern-day existentialists to do their thinking and for aspiring writers to gather inspiration from the fresh Sydney breeze.
4. The Secret Laneway – Kimber Lane Chinatown
Chinatown is one of the busier areas in the city, packed with locals and travellers alike who flock to the delicious Asian food stalls. But just a skip away from the main strip is Kimber Lane, a narrow laneway that has recently been painted with the brushstrokes of local artist Jason Wing. Walking down the tiny aisle, any feeling of claustrophobia is replaced by a sense of wonderment at the mystical art Jason has created, both in the daytime and at night.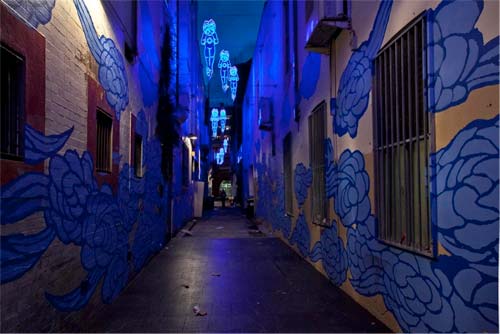 5. The Secret Pool – Fairy Bower Pool, Manly
There are very few places as charming as Fairy Bower, a baby of an ocean rockpool tucked away in a quiet corner of Manly beach.
On the rock edge stands an enchanting sculpture known as 'The Sea Nymphs' – as the sun sets, the sculpture only adds to the ethereal aura of this tiny gem.
6. The Secret Bar – The Baxter Inn
In recent years, Sydney has defied our strict lockout laws to create a new chapter filled with small, hidden bars in our urban folklore.
Venturing through dark alleyways and to the dank underground bar of Baxter Inn is a must for any whiskey-lover – this hidden bar has become one of Sydney's worst-kept secrets, recently voted one of the world's best bars and quickly becoming the trendiest jaunt for spotting Sydney's fanciest bar-hoppers.