Jayne Rolinson is an Australian artist who started out in the healthcare industry. She always had "one of those little dreams" of turning her passion for art and creating things into a business . After dedicating herself to her family for many years, the opportunity arose to ignite her passion and dream of becoming a professional artist.
She began with a single art course that inspired her and from there it's been an adventure in experimentation in the studio. Jayne is, more or less, self-taught.
Her abstract nude collection is a result of a genuine and joyous love of the shape of women. Rolinson laughs, commenting that she "loves the shape of beautiful, big voluptuous bottoms." They remind her of pears. She often uses collage in them.
At the moment, she's working towards another solo exhibit featuring a series of abstract seascapes and landscapes that are inspired by the amazing world of nature. Living in a small coastal town gives her an appreciation, love, and respect of the natural beauty of her surroundings. Jayne finds painting in a series gives her the opportunity to immerse herself 100% and explore the many possibilities of a single theme. At the beginning of planning a body of work Jayne will also commit to a planned number of artworks to complete the series.
Her process, too, is unique. The paintings start with a name and then manifests with the layering of paint, giving a rich depth of colour and history. She turns the canvas, mark making, waiting for the  inspirations, and images to find themselves  and take flight.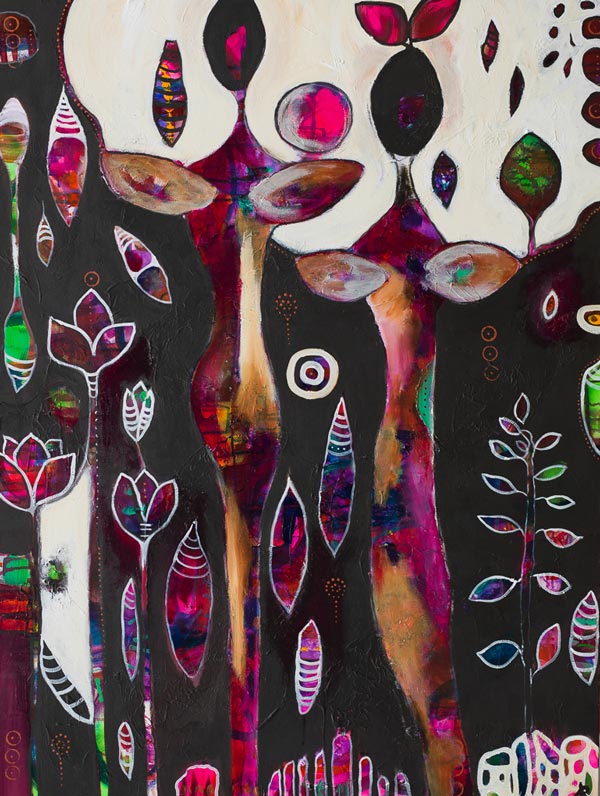 Allow Your Wings to Grow was the result of her own process of "learning to fly" in the art world. As an independent artist, Jayne says, you have to learn the marketing side, the promotional side. It's not just about being a self-taught creator, but about being a self-taught entrepreneur, of sorts. You are the painter, the creative marketing director, the bookkeeper, the boss, the employee. You need to be that  multi-skilled person. She advises to aspiring artists tune into the trends and find your own voice. And embrace the "flight" into the business side of the art world. It is a journey that is worth it!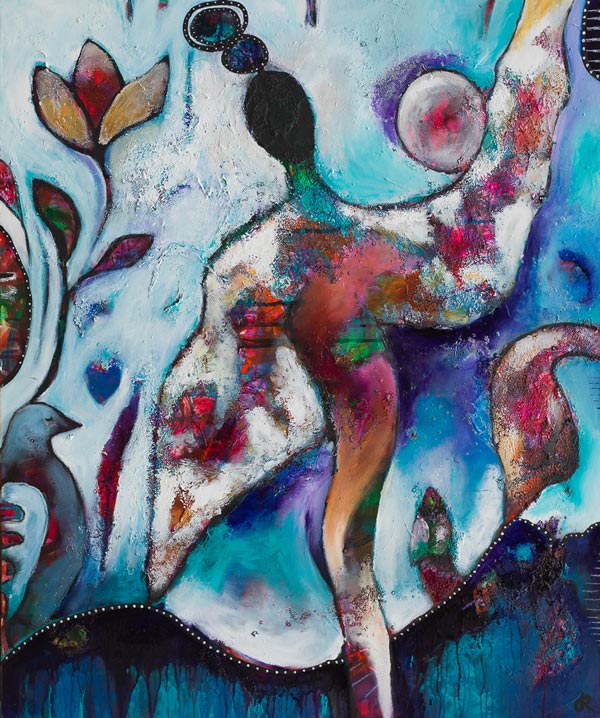 Dance to the Rhythms of Nature began as an exploration in connecting to her teenagers. Jayne states that they're always plugged into their music and she wanted to know what it was like to connect to "their music." Usually she paints to podcasts, meditation, or easy beat music. Listening to the likes of Take Me to Church by Hozier and dancing around the canvas brought out some new emotions and a new type of connection to art that inspired the new look of Dance to the Rhythms of Nature.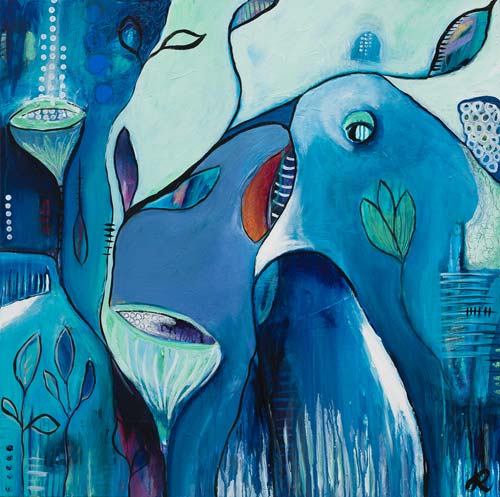 Jayne says that, "for me, this is a job." She holds very strict hours, painting four days a week from 9am-3pm, and even spending one day a week in the office.
There's this idea that artists create art when they're inspired. And that's true. But for a professional, there is no time to wait. We create inspiration by putting ourselves in front of the canvas. Hobbyists may have the privilege of picking up a brush or palette knife when that "aha" moment hits. But for Jayne, carving out "business hours" in a structured workspace actually takes the stress out of things and gives her the freedom to create.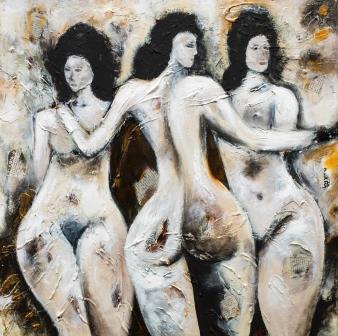 Three Sisters was inspired by the support, friendships, and love between mothers, sisters, and women. Communities, particularly those comprised of women, are not just a subject on the artist's canvas, but an essential part of Jayne's work.
Last April 2016, she donated 10% of all painting sales to raise $2000 for a Women's Weekend to End Cancer Walk for the Harry Perkins Institute of Medical Research. She also regularly contributes to various worldwide charities providing training and equipping young women with skills to give them better  opportunities off the street. Jayne is also in the process of donating a painting to the local St. John of God  Hospital  and two  artworks  will be auctioned at a  local Charity Ball this October.
Don't miss your opportunity to check out Jayne's work at her website or the gallery o n Bluethumb!