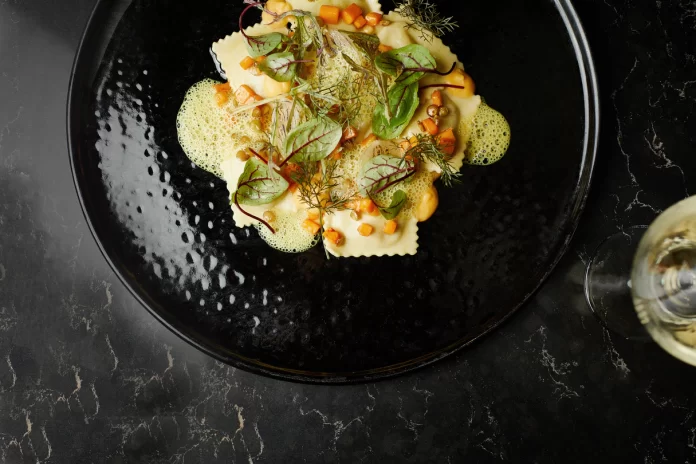 Indulge in the myriad of dining experiences at Sheraton's new revamped venues.
Put on your dressiest elasticised pants: following its $40 million refurbishment, the Sheraton Grand Sydney Hyde Park's dining venues – Feast, The Gallery and The Conservatory – were already some of Sydney's finest spots to wine and dine, but with their revamped interiors and glorious menus, they're unmissable venues for any local or tourist looking to treat themselves – and snap some great 'grams.
Feast
There is truly something for everyone at Feast. If the glorious, expansive and award-wining seafood buffet isn't enough to tickle your tastebuds, then never fear. Serving up a spectacular range of cuisines, you can choose to dine from their main buffet or go a lá carte and choose from their variety of exquisite dishes – which should really be regarded as works of art, given how incredibly presented they are.
The all-you-can-eat seafood buffet has been modified to be in line with Covid-19 regulations so that you can enjoy fresh seafood, mouth-watering desserts and live carving stations.
The Gallery
I challenge you to find a venue in Australia that does high tea better than The Gallery. Head over with a group of your nearest and dearest to enjoy three tiers of delish sweets and savouries. Handcrafted onsite by the hotel's pastry team the high tea changes with each season taking advantage of local, fresh produce but one thing stays the same and that's Chef Louis' famous scones.
The Conservatory
There is no better place to start or end your night than The Conservatory Bar. Steeped in glamour and elegance, you can enjoy some decadent and highly Instagram-able cocktails, or choose from their generous range of Australian craft beers, wines and gins. If you're feeling peckish, the tapas-style bar menu has plenty of snack options on offer.
Gather with your friends, family or colleagues under the stunning two-story glass atrium roof amongst the sleek monochrome furnishings, or even head out to the terrace to look out at the stunning view of Hyde Park. The Conservatory is also available for event bookings, with its variety of spaces providing the perfect place for all groups to enjoy a night out, and with the Sheraton's signature service on show, you'll be waited on hand and foot.
Every kind of dining experience you could wish for is on offer under one roof at the Sheraton Grand Sydney Hyde Park Hotel. Whether you're a Sydney resident or looking to explore the city, an experience at Feast, The Gallery or The Conservatory is a must-have.
Book to have your culinary fantasies fulfilled here.