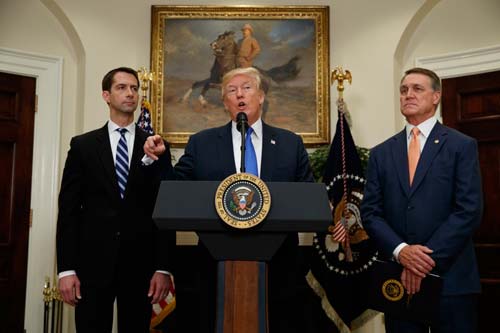 RAISE Act to reduce immigration by 50% in 10 years.
High skilled educated migrants are prioritized.
Trump sees it as a measure to aid assimilation. His supporters see it as a beacon of hope.
Is there such a thing as the "right immigrants"? What separate a "high value immigrant" from a "low value immigrant"? Why does merit only apply to university educated immigrants? Do labour intensive jobs not have merit? These are questions that can be asked of the RAISE (Reforming American Immigration for a Strong Economy Act) Act.
This month, Trump began to support the RAISE Act. This is a measure produced by the Republican Senator Tom Cotton and David Perdue in February. The act is estimated to reduce legal immigration in the US by 50% over a decade.
The bill targets the family reunification section of the 1965 Immigration Act that gave visa preference to immediate family. It also hones in on the diversity visa lottery that provided a certain number of visa to countries that have limited numbers of migration to the US. The bill presents a merit-based immigration system that prioritizes high skilled and educated immigrants.
It is hoped that after 10 years, the immigration levels drop to 540,000 per year. This is a 50% drop from the present rate.
Trump and his supporters have masked the bill's true purpose. Trump portrays it as an aid for assimilation.
"Finally, the reforms in the RAISE Act will help ensure that newcomers to our wonderful country will be assimilated, will succeed, and will achieve the American Dream" Trump said.
Similarly, Roy Beck portrays the decision as a beacon of hope for American's unemployed. "Seeing the President standing with the bill's sponsors at the White House gives hope to the tens of millions of struggling Americans in stagnant jobs or outside the labor market altogether," said Roy Beck, the president of NumbersUSA, in a statement.
"The whole commission was not about reducing immigration per se. It was about what is the right level of immigration, so that we're not disproportionally harming America's most vulnerable workers," said Rosemary Jenks, the director of government relations at NumbersUSA.
Trump and his supporters are optimistic about a measure that gives the appearance of tackling a problem but does not. He should consider the variety of factors at the root of unemployment rather than carelessly attacking immigrants that have contributed and upholded the US economy for years.
Is America not a country of immigration after all? Does it have a right to label itself a "melting pot" after the implementation of such measures?
There is no clear date on the time or date of the bill's progression through congress. A bill needs 60 votes in the Senate. This means the addition of Democratic support.