Malcolm Turnbull has a bit of mud on his face as audio was leaked this week. The conversation was secretly recorded at a talk with young leaders in New York. In it he spoke about his own ousting from the Prime Ministership, and how poorly it was handled by his predecessors. He can be heard describing Kevin Rudd as a miserable ghost for continuing to stay in politics. But what came as quite a shock is that he described his fellow Liberal member, Tony Abbott, in the same way.
A red-faced apology was expected by most, but that's not what the public or Mr Rudd and Mr Abbott received. Instead, Malcolm Turnbull decided to clarify exactly what was said. Earlier versions of the transcript read, "hanging around like lipid Kevin Rudd or Tony Abbott." And to clarify the former Prime Minister sent the following tweet: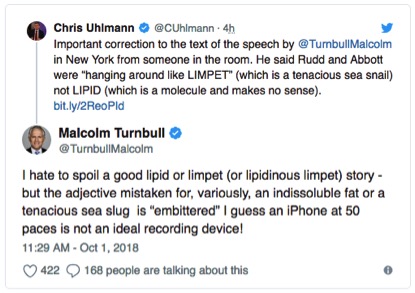 Many politicians would be red-faced, but now that Malcolm Turnbull is free from the top job he clearly isn't very interested in playing games anymore. If only he had had a bit of that gumption when he was in power.