Thousands of Australians and New Zealanders have gathered across each nation to attend dawn services and commemorate ANZAC Day, a day where we remember the first landing in Gallipoli and pay our respects to the soldiers who fought in WW1, WW2, and other military conflicts in the years since.
In Sydney, a ceremony of remembrance was held in Martin Place, where nearly 20,000 people were in attendance and Commander of the Australian Fleet, Rear Admiral Stuart Mayer addressed the large crowd, noting that "Australia has lost 102,825 men in war since 1861".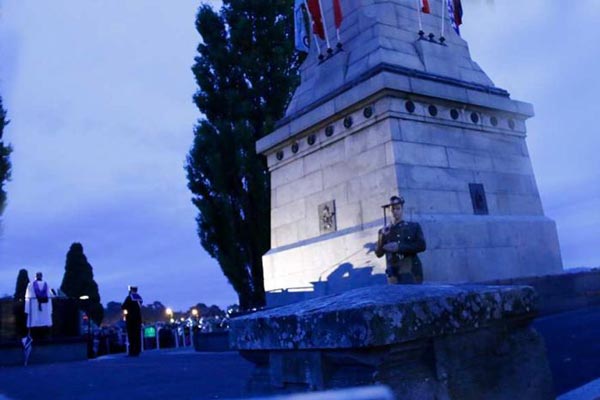 "This morning we don't boast about triumphs or victories", he continued
"We remember the sacrifice of those who were prepared to stand up for someone else, for people that believed that there was something bigger, more important than just their own interests and were prepared to put others ahead of themselves and put their lives at risk of because of those beliefs,
"It is a promise that adds to the dignity of our nation and that the nation's people would annually recommit to the promise to remember those who have stood in harm's way".
Likeminded ceremonies were held across the nation, with varying weather conditions as it rained in Canberra and Melbourne, where their ceremonies were addressed by sapper-turned-Paralympian gold medalist Curtis McGrath (Canberra) and Victoria Cross recipient Corporal Ben Roberts-Smith (Melbourne).
Services in Brisbane, Adelaide, the Northern Territory, Gold Coast, Perth, New Zealand, and the PNG also held dignified events where the speakers honored fallen soldiers, with New Zealand's Governor-General, Patsy Reddy, telling a crowd in Wellington's Pukeahu National War Memorial Park that "For the bereaved, an Anzac Day service was the nearest thing to a funeral that their loved ones would ever had".
Similarly in the PNG, Australia's Governor-General, Sir Peter Cosgrove, told a crowd in PNG's Bomana War Cemetery that "Those who gave their lives and lie here are always in our hearts. Their deeds, their sacrifices and the battles they fought have shaped us".
In Tasmania, Hobart's ANZAC dawn service was held at the Hobart Cenotaph, where the crowd assembled was addressed by Reverend Richard Humphrey, Anglican Dean of Hobart, who said, "We remember not just to recall the past, but to change our present; we remember the carnage and the cost".
But perhaps more poignantly, the crowd was also addressed by Tasmanian student, Adelaide Robinson, who told the crowd, "Several years ago, when I attended my first dawn service, I stood overshadowed by those around me unaware of the true meaning of why I was here and why it was so quiet,
"Yet at the sound of the bugle", she continued, "I reflected and felt a sense of grief, which was quickly overcome with the feeling of gratitude created through the recognition of the actions, virtues and courage of people I had never met".
"As a teenager who has only known the comforts of home, it is extremely hard to imagine the countless young Australians that answered the call and left the luxuries and safety of home to find themselves in the heat of battle".
Australian Prime Minister, Malcolm Turnbull, also addressed the nation in a Facebook video to remember the fallen ANZAC soldiers and speak about the meaning of this day.