Thought you were up to date with all the new names, positions, and switches in the name of fashion? Well, you're probably already a name or two behind with another major shuffle in the industry, following Dior's new female head.
This time, the spotlight is on ex-Dior creative director Raf Simons.
After his departure from Dior in Paris and months of speculation as to where he'd go to next, Simons is now cemented as the new creative director of Calvin Klein.
As with all young and hip businesses in the industry nowadays, the brand announced the news via Instagram, stating that the Belgian fashion designer will be overseeing all of the creative processes from the Calvin Klein Collection. CEO of Calvin Klein, Steve Shiffman, stated in early April, months before the official announcement amidst rumours that "the [potential] arrival of Raf Simons as Chief Creative Officer signifies a momentous new chapter or Calvin Klein."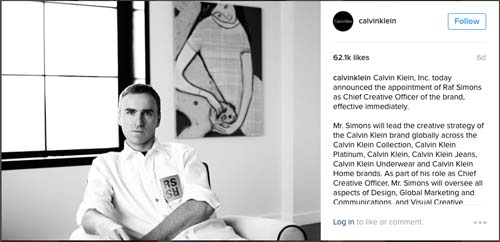 What makes Simons' return to the industry as creative director once again so interesting for many, is the hectic schedule that he'll be running on once again after departing Dior due to personal reasons and conflicting schedules. Back in 2015 during an interview with Cathy Horyn in System magazine, Simons himself stated that he wasn't fond of doing so many shows a year, so many things at once with no time. He needs, "incubation time for ideas."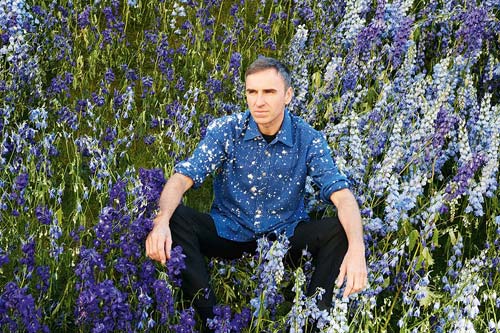 However, considering that Simons himself has played a major role in transforming the menswear landscape since the early '90s with his eponymous menswear label and then moving into womenswear with Jil Sander, it's no wonder that everyone is anticipating great changes in silhouette, atmosphere, and branding. His modern minimalistic aesthetic that he created with his designs at Jil Sander and Dior will no doubt revolutionise Calvin Klein, which has begun to languish over the last few years.
As Simons' non-compete agreement with LVMH Moët Hennessey Louis Vuitton expired in July, Simons is now free of his official contract from Dior (meaning that Simons can now go design for any house he wishes to). It is yet to be seen that a critically acclaimed European designer will have major impact on a classic American household name. With so many sub-labels now under Simons' control, from men's, women's and even homeware, the whole namesake and brand of Calvin Klein will undergo a complete makeover.
With Calvin Klein expected to pay Simons a salary of $18million a year, Shiffman hopes that Simons' exceptional contributions to the industry will continue to phase into the brand of Calvin Klein to help modernise and shape the house as a leading global lifestyle brand.