CrowdInk had the chance to sit down (virtually) with Jo Blankfield, author of Your Body, Your Style, and the stylist behind "Fashion's About You." She tells us about entrepreneurship, her journey into the styling world, the importance of styling for the everyday woman, and a few helpful tips for balancing work and life.
CrowdInk: Tell us about your brand. How did you get started? What was the inspiration behind it? 
Jo Blankfield: It was really a case of right place, right time. I originally trained as an opera singer and studied law and fell into styling by assisting my friend's mum backstage at fashion parades when I was 17. I never would have described myself as fashionable (and still don't), but I learnt about dressing my own proportions as I was always petit, but had a very large bust. I started to help select the looks for the parades and realised I had a knack for selecting outfits that suited the figures of the models and also their personalities. I realised that personal styling could be a career for me as I had always helped friends with their outfits and naturally understood how to balance their bodies and create looks they felt confident in. 
I then just set about becoming a stylist. I practiced styling friends, their parents, would do contra deals to build experience and started charging at a lower rate as I refined my skills. I gradually built my business through opportunities and never saying no. My catchphrase was 'we'll make it work.' If I'd never done a task before, I'd just go for it. I learnt to trust in my skills and knowledge and was always able to ask the questions that needed to be asked. I also have the advantage of being an organised creative. I don't just have the creative aspect that comes with styling, I have the business and people skills, which definitely helped progress my career. My passion was the everyday person and as I and my business developed, I was able to recognise what was needed, where the gaps were and what my strengths were. Fashion's about you is just that. Fashion is about you, not the other way round. So often we look at clothes and find problems with our bodies rather than the garments we are trying to wear. If a piece wasn't made to fit you, that's ok, it's not your body's 'fault'. 
My journey with anxiety was the turning point where I changed from singing and moved into building my styling business into a full time career. It was a very hard period in my life, as I had to stop everything for about 18 months, but came out the other end stronger and ready to go for it. I also think this experience makes me better at what I do.
CI: Tell us about your book, Your Body, Your Style.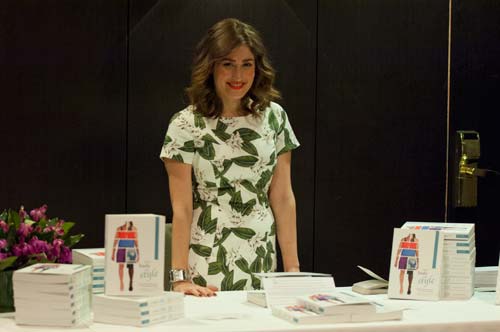 JB: 'Your Body, Your Style' has been written for the everyday woman. It focuses on body proportions rather than body shape and gives the reader the information to understand what works and why, and what doesn't work and why, so they are able to make informed and less emotional choices when selecting their clothing and dressing their own body. Through the book I have also addressed how we view ourselves, what we see in the mirror and given information and ideas on how to treat ourselves more generously in our perception of our bodies.
The book has been entirely produced and printed in Australia. Although the concept has been in my mind for a number of years, the bulk of the book, from writing to completed copies, was achieved in less than 6 months. I am very excited and proud of what has been created and am looking to get it out to the widest possible audience.
The concept is based around women's styling, body shape, and fashion. About 8 or so years ago, the concept of body shape was widely promoted and written about, and became a focus for women's styling. Originally 5 body shape categories were addressed. Trinny and Susannah (Celebrity Stylists from the UK) wrote a book about 12 definitive body shapes in 2007, which created much conversation and interest in this idea. Although I appreciate the basis of body shape, I feel that it is not possible to fit billions of women worldwide into 12 categories. Not only do the body shapes not cover the body head to toe, the advice doesn't allow for age, weight, height, personal style and psychological headspace. It's all about do's and don'ts and stringent rules. With this in mind, I used my 13 years styling experience and feedback from clients to develop this book as an answer to these issues.
I chose to self-publish, as feedback from publishers had been very positive. They came back to me with no negative feedback, only that from their perspective I needed a bigger profile or social media following (40k +) for it to be worth their while. As what I do is not about me and the topic is so current right now, I decided that this wasn't necessary and wouldn't actually help with reaching the right audience, so I instead chose to do it myself, working towards my goal of becoming the authority in styling the everyday person in Australia and hopefully one day on an international level too. 
Sales are currently through my website www.fashionsaboutyou.com.au and some small Melbourne independent books shops including Readings, where it has been very well received.
Basically, 'Your Body, Your Style' is the first step in becoming the authority in styling the everyday person in Australia. In my opinion, no one has truly taken on this platform. Of course, there are many well-recognised stylists out there, but they are often known for their own style or what they do in the 'fashion world'. I differ as I am focusing on the people that want and need the help (similar to yourself), making it accessible and attainable for all rather than only being available to those that have the money or the time. Every person deserves to look good and feel great!
CI: What's your number one tip for aspiring entrepreneurs? 
JB: Know how business works and get the right advice! I always suggest that aspiring entrepreneurs get a good accountant that can guide you through the financial setup of your business. So often we are so focused on the idea and creating/developing the business that we forget about the financials and dotting the i's and crossing the t's, which can come back to bite you later. Be across everything and understand it all. You don't need to run it all, but if you are trusting people with your business, you at least need to be across and understand what they are doing.
CI: What do you do in your spare time? Hobbies? Interests?
JB: I don't have much spare time, but I'm learning to make time for myself and the things I love. As I originally trained as an opera singer, I still sing in a choir and do a bit of teaching. As I've gotten older, I've gotten into fitness more. It also became an important part of my journey with anxiety and overcoming it. I love walking and have recently gotten into running. I also enjoy boxing and have trained on the flying trapeze since I was 17, still do it and still love it! I also love cooking and entertaining my friends, and will always have people over for a 3 course or more meal!