Australia is known for many things, but a deep appreciation of nature is intrinsic in the values of this country. Home to the oldest living culture on earth, the Aboriginal people, the traditions and values of the true Australian spirit is to live with and for the environment.
The wonderful team behind the incredible carved wooden bowls, combs and jewelry of Yandiwa have dedicated their time to honing a craft that showcases the true beauty of their surroundings.
Located 800 km from the nearest hospital, shopping mall or hardware store, Annieka and Francois, live in a remote community in Western Australia that is probably much closer to the country visitors imagine than the Sydney Harbour.
Wild dingoes and camels stroll past their home, and giant spiders and centipedes frequent their workspace in the backyard – 1700 km away from the closest major city, they create these wooden wonders in the true outback.
While neither studied art, they spend their days working as archaeologists where they indulge their, "curiosity about how things are made by different cultures." Having used many traditional techniques to truly understand how people did things in the past it has given them a, "respect for the level of skill required to perfect a craft," along with the, "fascination and joy in the processing."
Each piece in their Yandiwa collection is sustainably sourced 2,200 km away on the South Coast of Western Australian. Since their home is on an Indigenous Protected Area, they cannot, and 'would not want to, ethically speaking,' collect wood from that area. IPA land is fiercely protected and managed using traditional strategies to maintain biodiversity.
On the South Coast the Yandiwa team buys their burl wood from suppliers who harvest the burls from trees without killing them. Sustainability is incredibly important when sourcing each piece and, "this makes burl wood items unique," because, "the tree they come from is still alive, out there and growing!"
Annieka and Francois will also collect 'unusual species' from green waste such as cherry, pear or jacaranda, because 'it's just too sad to see such beautiful wood go in a mulcher."
The process in making each hand carved item is a labor of love. Once they collect the wood, they must immediately seal the raw surfaces before taking them home due to the significant change in humidity in the two areas, without doing so the wood will crack.
Once the piece of wood is chosen, primarily Australian timbers native to WA (Eucalyptus or Acacia species), the team thinks about what it could be made into, 'with respect to its properties, shape, size and colour.
Annieka admits, "We do have a weakness for the red colours of red morrel or redwood though, and the patterns in Snap and Rattle Eucalyptus."
The inspiration behind each piece is 'organically born in the wood itself." When Annieka and Francois find a piece of wood they love they want to find the best way to showcase it, without cutting off the best patterns. Francois is a bit of a 'wood whisperer,' as he has a way of maintaining and respecting the original shape and pattern of the wood.
Each hand carved piece takes a weekend or two to finish and they are happy to make custom orders!
Annieka and Francois created Yandiwa with the hopes of creating something for themselves to grow, develop and challenge themselves. It allows them to learn new skills, and meet people they wouldn't normally come across.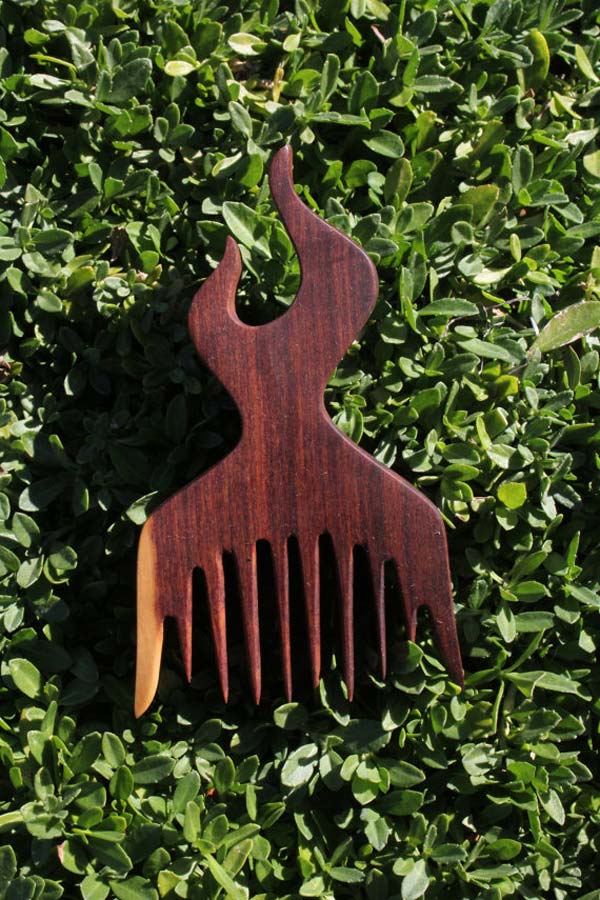 Deriving from a WA Aboriginal word describing a wooden bowl used to collect seeds, plants, even babies, Yandi (plus WA for Western Australia) is using their love of the land to create one of-a-kind masterpieces to add to your home or jewelry collection.
With each purchase you can rest assured you are helping preserve the sustainability and purity of the Australian environment. Created by a team who have dedicated their life to understanding the culture of material items, Yandiwa is the place to shop for something unforgettable and rare.