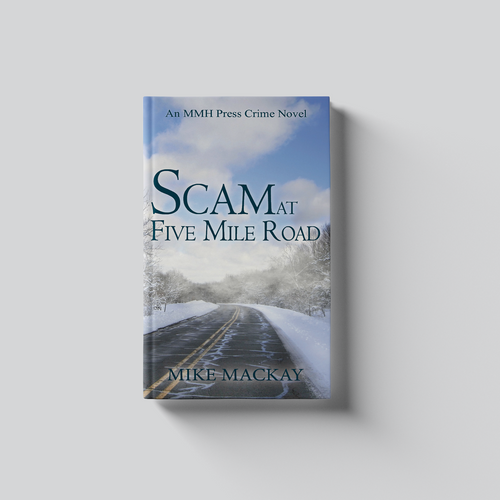 Jack Rhodes' latest assignment seems straightforward. Investigate and locate the company's missing money, track for possible theft, and investigate the deaths of three men. The company's management says there's a possible systems glitch, no stock is missing, and the deaths are tragic accidents.
Once he arrives at the facility, it's clear not everyone is happy about his arrival. After a string of near misses, it is evident that someone wants him out of the picture and is not afraid to get their hands dirty.
Written by Australian author Mike Mackay, Scam at Five Mile Road is the second book in his Scam series, following on from Scam at Old River. The series follows the work of Jack Rhodes, a computer forensic expert, who in this novel joins forces with his on-again, off-again lover Stella (herself a skilled hacker) to investigate the deaths at her company. The suspense, mystery, action and romance that unfolds may be fiction, but it is based on real-life events.
Mackay draws on from his career working in the IT industry, which led him to uncover "the evil that men do" in the business world. More than 80 per cent of the story is based on real-life events, while Mackay also has based his lead character on himself.
"I've told this story many times to people, that I've met these scammy people and this is what they're up to," Mike says of his latest novel. "I've sat down at dinner in pubs and clubs, and people say, it's a great story. So, I don't suffer from writer's block."
ABOUT THE AUTHOR
Mike Mackay is an Australian-born author who has worked on every continent and in every business sector and has many stories to tell based on his real-life encounters. As an independent contractor in the IT industry, he has created businesses, owned a five-star game farm and a one-star pub, driven trucks for his horse transport business, and worked for a gangster along his way to make money, lose money, then make it back again. Now back living in Australia after 38 years in South Africa, the author of novels, short stories, poems and spoken word has embraced the beach lifestyle of Shoalwater, WA.
Mackay was born on the same day as famous novelist and short-story writer, Stephen King, but published his first book at a much later age (72). He also hopes one of his Scam novels will be turned into a movie.
Scam at Five Mile Road is published by MMH Press.
Author Mike Mackay is available for interview.