Pour yourself a cup of the strongest coffee in sight and sit down to obsessively re-watch the first exclusive trailer of the Gilmore Girls revival airing this fall on November 25th.
Though it's crazy to think it's been long enough to be nostalgic for the early '2000s, no show better encapsulates the warm, fuzzy feeling of nostalgia better than Gilmore Girls.
Centered on the mother-daughter relationship of Rory and Lorelai Gilmore, these two women managed to capture the hearts of millions only to have the show canceled after seven seasons surrounded by frustrating Hollywood drama and without much closure.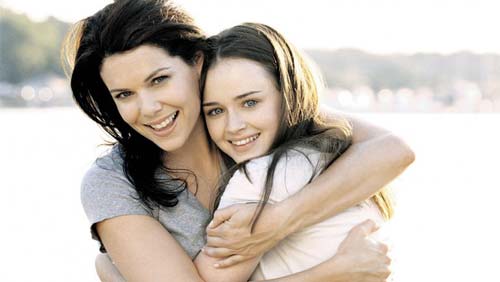 Fast forward almost a decade, and Netflix jumped at the chance to give fans what they have been waiting for: a return to the quick-witted banter of the ladies from Stars Hollow and all the eccentric personalities who love them.
The new show, titled Gilmore Girls: A Year in the Life, will feature four 90-minute movies aptly named Winter, Spring, Summer, Fall.
The entire main cast will be returning and favorites such as all three of Rory's former love interests will make appearances.
Lauren Graham, who plays Lorelei, raved of the revival, "It was literally like no time had passed … It was joyous," she said. "It was exhilarating; it was the old show."
Fans will find Rory returning home from her new life in London for a winter holiday spending time with family. From what show creator Amy Sherman-Palladino would reveal at the press tour, Rory followed her chosen path of perfect school, perfect college, perfect plan which landed her in the newspaper business just as it became irrelevant.
She's back in Stars Hollow re-assessing what to do when all your dreams come true, but they aren't exactly right.
Something else not quite right is the notable absence of family patriarch Richard Gilmore played by Edward Herrmann, who passed before the show got the greenlight for a reboot. The storyline will follow the Gilmore family dealing with his passing. According to Palladino, the tragic loss gave the show "depth and emotional complexity," as the actors in real life were truly coming to terms with his death.
On a happier note, someone who will be joining the cast again?
Melissa McCarthy.
The actress behind beloved Sookie St. James has spent the last ten years becoming a bonafide movie star and there was talk she wouldn't be returning after she let slip she wasn't invited back.
In the age of "ugliness" as Palladino has deemed it, this tidbit started tabloids a flurry about a supposed feud when it all really boiled down to scheduling and communications issues.
Sookie and her BFF Lorelei will be reunited – fret not.
As my actual BFF recently revealed to me when I momentarily doubted that this revamp might just be a sad, older version of the great classic – I learned the show was canceled on not-so-great terms and it was always meant to continue.
Creator Palladino and her writer-director husband, left after contract disputes and were not a part of the fateful last season that many fans felt drifted from the original spunk that made it so great.
Now, the Palladinos and original cast will finally get that chance to finish what they started and reveal the 'last four words' they had always planned to close the show with.
I know I'm not alone in my unnatural excitement for November 25th, so grab a blanket and snuggle up with your mom or gal pals to enjoy the next chapter of Gilmore Girls: a show that just looks like it smells of warm apple cider, fall weather, and freshly baked muffins.