"The next wave of innovation will be led by those who embrace digital infrastructure to drive new and meaningful outcomes," says John Gordon, Chief Digital Officer, Current, powered by GE.
Current, powered by GE, isn't just making vague statements. They've already partnered with Tianjin, China; Schenectady, New York; and Cleveland, Ohio; to put their digital infrastructure to task.
To facilitate data-informed app and software development and outcomes at an enterprise and city level, Current is launching six microservices against its intelligent LEDs and GE's Predix cloud platform. These architectures will drive data interactions relative to temperature, occupancy, ambient light sensing, pedestrian planning, parking, traffic and public safety.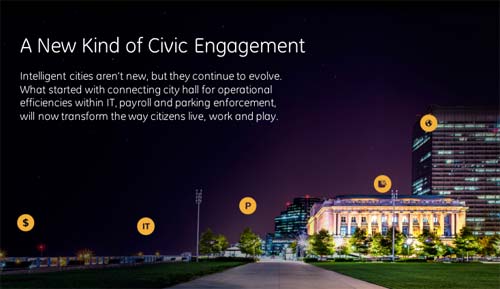 GE's cloud platform for industry, Predix, captures and analyzes the unique volume, velocity and variety of machine data within a highly secure, industrial-strength cloud environment. For Current's customers, it means enabling predictive and prescriptive analysis around things like energy usage and other outcomes in commercial and industrial spaces, as well as cities.
To accelerate digital outcomes for these users, Current is building a robust ecosystem with partners and developers from outside of GE's walls. These partners are helping unlock a wide variety of outcomes, from helping retailers target shoppers with coupons and promotions to helping employees quickly find an open meeting space to pointing drivers to the closest available parking spot.
It's a network and an ecosystem that leaves room for the best, most cost-efficient and environmentally sustainable solutions, regardless of the company that develops those solutions.
And that's both pretty sci-fi and pretty amazing for lowering our negative impact on the environment without breaking the bank.
Some of the Apps that Current Works with in the Private Sphere:
Eventboard: Better manage meeting rooms and forecast workspace needs with analytics of how rooms are used, plus real-time views of open rooms to save time searching.
Keonn: Retailers are able to improve the customer shopping experience in store, from increasing product availability, to making sure that customers find the products they are looking for.
Mowingo: Retailers and brands target shoppers with coupons, information and promotions via their mobile phones based on their activity and precise indoor location, down to a store's aisle.
Point Inside: Answers the two most fundamental questions in retail–Do you have it, and where can I find it–and directs shoppers to the products on their smartphones, leading to increased sales and new data to help retailers analyze shopper behavior and improve store operations.
Serraview: Businesses can visualize their space utilization to make better decisions on their real estate needs and provide just-in-time wayfinding tools to their employees.
Some of the Apps that Current Works with in the Public Sphere:
Breezometer: By pairing Current's microservices with BreezoMeter technology, cities gain intelligence around how traffic conditions impact the environment, giving planners actionable analytics to influence city mapping and climate-change initiatives.
CivicSmart: This solution enables cities to efficiently manage parking infrastructure to unlock the value of their streets and drive growth in core business districts.
Genetec: City, public safety and emergency responders have real-time views of what's happening across town with live video feeds and analytics to help create safer, more secure environments.
INRIX: No more circling the block looking for parking or wasting time stuck in traffic. INRIX is the preferred provider of parking and traffic intelligence to leading automakers, transportation agencies and third-party apps. Customers include Audi, BMW, Lexus, Toyota, more than 60 U.S. Departments of Transportation, the U.K. Highways Agency and the Danish Road Directorate.
Now that Current has partnered with Tianjin, China; Schenectady, New York; and Cleveland, Ohio; what outcomes have those cities already seen? And what can they expect in the future?
"While [Current is] in the early stages of our partnership with these cities, each of them will install Current's energy-saving, intelligent LED street lights armed with sensors, software and other digital-data capabilities as their core infrastructure for digital growth," wrote a representative of GE.
Tianjin, China, is the first city in Asia to partner with Current to install intelligent LEDs with intelligent capabilities in one of their central business districts. The intelligent street lights build on features such as security cameras, routers for free Wi-Fi or digital screens that allow the city to broadcast critical messages, such as traffic reports.
Schenectady, New York, will install Current's intelligent streetlights downtown as part of its smart cities vision, which is designed to take advantage of new technology to improve the city's economic development and quality of life, and will be part of a living lab that allows the city's innovation team to study data to find new and innovative ways to service the city, its residents, and its business community.
The City of Cleveland is in the process of installing several dozen intelligent LED fixtures downtown to explore parking optimization and pedestrian safety crossing in high-traffic areas, as well as other potential outcomes.
Overtime, cities like the aforementioned can leverage advanced sensors to serve a host of other needs as well – from environmental sensors that measure air quality, to vibration sensors that measure road and bridge safety, to parking sensors that identify available parking spots. We are seeing cities increasingly lean into a new, digitized future with the use of advanced intelligent streetlamps.