Sometimes we like to scroll through pictures of exorbitant, rich, delicious ice cream. Sometimes we like to eat it, too – but we're sorry; unless you're willing to spend your life savings on one meal, you probably won't be adding these places to your must-visit list of restaurants.
If you've got enough money to even get to these places, and then a lot (lot) more to spare, here's where you can find some of the world's most expensive ice creams:
Serendipity 3, New York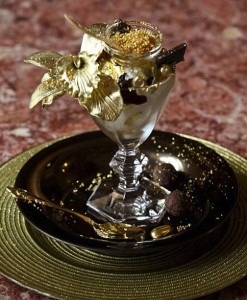 Coming in on top is the world's most expensive ice-cream dish; "The Golden Opulence Sundae" from Serendipity 3 in the Big Apple. Opulence seems a bit of a stretch – it doesn't quite cover how ridiculously overindulgent it is. Covered in 23-karat gold leaf, it costs around $1000 per serve. Customers have to call in to order the dish at least two days before they plan to arrive, so that ingredients can be flown in from all over the world.
Scoopi, Dubai
The playful-sounding Scoopi café is a little misleading, considering their "Black Diamond" dessert costs around $800 a scoop. Again featuring the 23-karat gold flakes, this Madagascan vanilla ice-cream also includes Iranian saffron and black truffle. Thankfully, you get to keep the Versace bowl it's served in, so at least you'd have some kind of memento of the event.
Three Twin's Ice Creams, Mount Kilimanjaro
This $60,000 ice-cream isn't laced with gold and drenched in the world's finest truffle oil – in fact, it's not much greater than your average ice-cream at all. However, thrown into the deal are air fares to Tanzania, five-star accommodation, and travel to the summit of Africa's highest peak, Mount Kilimanjaro. And once you're there, you can have as much ice-cream as you like. So really, when you look at it like that – it's a bargain!
The Langham Hotel, Chicago
Served at the Pavilion restaurant of the Langham hotel in Chicago, The Victoria dessert lives up to its royal name, costing around $1000. Made with vanilla and chocolate ice cream and topped with 24-karat gold dust, golden peanuts, butterscotch, whipped cream, hot fudge, and salted caramel, we're wondering if anyone has ever made it through it. Again, you get to keep the crystal bowl it's served in, as well as a bottle of champagne – which is probably provided to help you forget how much money you just spent on ice cream.
Bonus: Hakuichi, Kanazawa
Just to make sure we haven't completely left you down in the dumps after seeing a whole lot of ice-cream you can't have, here's one to confuse you. There's a gold-leaf coated soft serve ice cream cone from Hakuichi café in Kanazawa, Japan that you can buy for a measly (wait for it)… eight dollars? Now all you have to do is save up for the flight to get there.