Getting engaged is quite a few women's dream. But what if you don't want to spend your entire life savings on a piece of rock that might cost less than its sold value? Here are the top 5 engagement rings you can find for under $500:
1. Double Diamonds
If you are one for double diamonds, but don't like the price it comes with, this is the one for you. Priced at only $196.10, this raw diamond beauty is a dream, and also my personal favorite.
2. Raw Aquamarine and Diamond
Love colors on your engagement ring? How about this raw aquamarine beauty surrounded by 3 raw diamonds. And that's 4 diamonds for $216.39!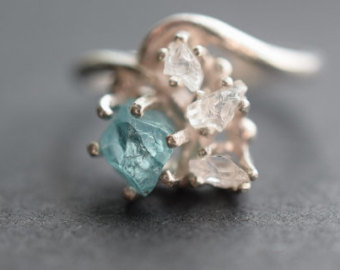 3. Simple Raw Diamond Engagement Ring
A simple and traditional one-diamond stunner for a mere $169.06
4. Emerald White Gold, Halo Diamond
For the bold and sparkler lover, this baby is surely a head turner and a statement piece. No one will be able to tell it only cost you $482.82(+)
5. Princess Cut Diamond, Solid Gold
For the princesses at heart and another simple yet stunner, dripping in solid gold for only $459.83 (+)