Do you ever look around your bedroom and think, "I need a vacation?" Well, do we have the list for you. These hotels have been named Tripadvisor's top 5 most luxurious hotels in the world for 2016. And not without reason.
From Morocco to the Czech Republic to  Costa Rica, sure, travel is about the place. But you'll be tempted to just stay in bed all day once you take a look at some of these rooms:
Royal Suite at La Maison Arabe, Marrakech, Morocco.
With 47sqm of space and a massive King Size Bed, satelitte tv, fireplace, private terrace with jacuzzi, and views to squirm for, a night in La Maison Arabe is really a steal at only 8,100 MAD a night ($845 USD). Did we mention that there is both a first and mezzanine floor in addition to that private rooftop terrace?
COMO Villa at Cocoa Island by COMO, Cocoa Island, Maldives
Butler. There is a personal butler, "to ease you through your arrival." There are only 2 of these villas in the resort, each equipped with a private jetty, two wings with a bedroom in each, ensuite bathroom, outdoor shower, private terrace, satellite tv, and is essentially in the middle of the ocean. And at only $3000 USD a night, it's really quite reasonable.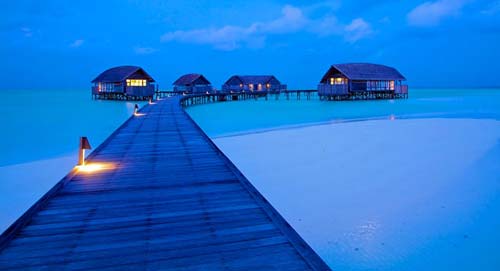 Rudolf II Suite at Golden Well Hotel, Prague, Czech Republic
Styled with Richelieu Renaissance furniture, including an all-natural Saffron King bed, the Rudolf II Suite looks out over Prague's incredible skyline and the Royal Gardens from the second floor of the Golden Well Hotel. Outfitted with an exclusive stocked wine rack, original 17th century wall dressings, stunning original art, and world-class Baroque music drifting in through the incredible gardens below, don't miss your chance to stay a night in the Rudolf II Suite. Ringing in at only $750 USD per night, it's well worth the getaway.
The Private Reserve at Gili Lankanfushi, Maldives
This 12 person occupancy "room" is actually 5 separate buildings all connected by a rustic/chic dock over 1,700sqm. It's outfitted with 2 master bedrooms, laundry service, mini bar, jacuzzi, turn down service, private pool, private spa, private steam room, and is in the middle of the ocean. Every room has "wall to ceiling windows" that are actually just open spaces to the middle of the ocean. Did I mention this one is in the middle of the ocean? At nearly $12,000 USD per night, it's really not so bad when you split it 12 ways.
Springs Villa, Nayara Springs Resort, La Fortuna de San Carlos, Costa Rica
The absolute peak of luxury, this room features a four-poster bed, oversized bathroom, spacious living area, butler service, plunge pool fed by natural mineral springs, environmentally friendly bath amenities, writing desk, flat-screen satellite tv, audio system, and so much more. At only $650 USD per night, this one is a must-do on any trip to Costa Rica.