Now that your summer and autumn veggies and flowers are coming to an end – it's time to set up your garden for the coming spring. We all know that saving water and time (and energy!) in the garden is essential for happy gardeners, and now it's easy with the NEW ingenious watering system from Select IP Australia. It's available throughout Australia for the first time, after great success in the UK and Europe.
An innovative watering system
With its unique holes, the SpeedFeed watering system delivers water and feed directly to the roots in seconds, cutting down on waste and saving time. Waters deep down into the Planter or Raised Bed, boosting crop production and producing healthier plants.
Use 5 times less water and feed
It spreads water and feed efficiently over a wider area to where it's needed most, instead of just watering the top soil, not only avoiding leaf burn and protecting your precious plants, but also saving you money on water and also feed each time. With fully interchangeable parts of 12pcs in the Single pack and 24pcs in the Twin pack, it's easy to adapt to all types of planters and raised beds from rectangle to pentagon.
Made from quality materials
For durability, and weather resistance in all conditions, year after year. The natural green colour blends in with your garden. It's quicker and more efficient than using the traditional watering systems.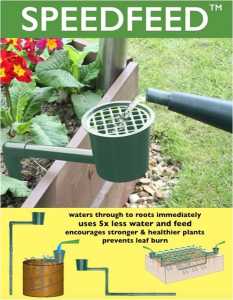 Key Features:
Saves Money by Using 5 x Less Water and Feed Than Conventional Watering
Delivers Water and Feed Directly Through to the Roots in Seconds
Unique holes spread water over a larger area to give maximum coverage
Fully interchangeable parts makes it easy to adapt to all types of Planters & Raised Beds from rectangle to pentagon
Ideal for your Herb & Veggie Raised Beds & Balcony Planters
Prevents Leaf Burn by watering direct to the roots immediately
Encourages Stronger & Healthier Plants
Evenly Distributes Water and Feed Inside Planters and Raised Beds with our unique design
It's quicker and more efficient than using the traditional watering systems
Durable plastic will last for many years
Single Pack (12pcs) suitable for:
1 x Planter SPEEDFEED at 55cm deep or
1 x Raised Bed SPEEDFEED at 75cm long
Twin Pack (24pcs) suitable for:
2 x Planter SPEEDFEED's at 55cm deep each or
2 x Raised Bed SPEEDFEED's at 75cm long
(alternatively 1 of each)
Check out more about the SPEED FEED here.