A painter since childhood, Susan Skuse is a lifelong artist. Her vivid, creative work is alive with colours and complex layers, jumping off the canvas and commanding attention from audiences.
Drawing inspiration from the natural world around her, owning a painting by Susan is like having a piece of living art in the room with you, always with more to uncover and be revealed. It is because of her talent and technique, her ability to make her work come to life before you, that Susan was awarded the Art Lovers Prize.
"In the end Susan Skuse's work stood out. The setting is calm yet the painting is dynamic and alive with colours and layer, and the birds appear to sing out and grab your attention with their glossy plumes and inquiring eyes"

– Rebecca Ross, curator and director of The Walls Gallery. 
Taken to drawing and painting ever since she was a child, Susan's love of art was encouraged by her parents; she took her creativity with her to her position in print production for large advertising agencies in Sydney, creating large scale works. While this satisfied her love of art for a while, when she made the move to Alice Springs, her love of the craft was reunited, but it wasn't until the last ten years that she has been able to devote herself entirely to her art.
Since then, Susan's work has blossomed and grown, influenced by Japanese and Chinese art, alongside the sub-tropical rainforests of the Gold Coast Hinterland. Having tried and tested a myriad of different styles and techniques, it took Susan some time to find a style that best suited her, one that imbues elements of conceptual art into her early love of realism.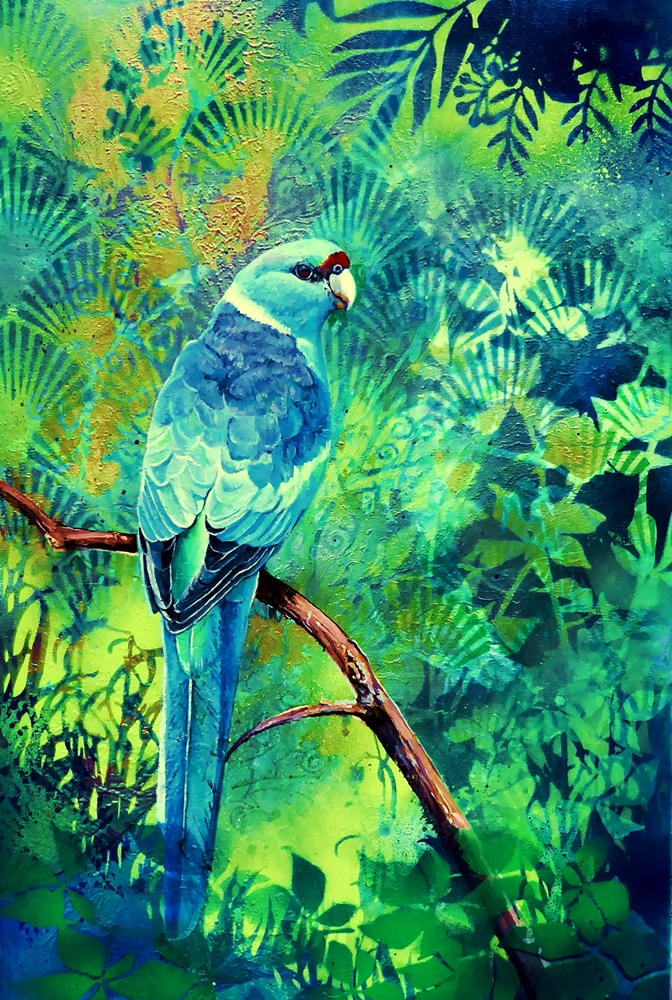 Most noticeable when you first encounter a piece of Susan's work is her incredible command and use of colour. While a large proportion of her work features birdlife, particularly the more than 60 different species that visit her garden in the Gold Coast Hinterland, what really brings these birds to life are the colours she chooses to complement them.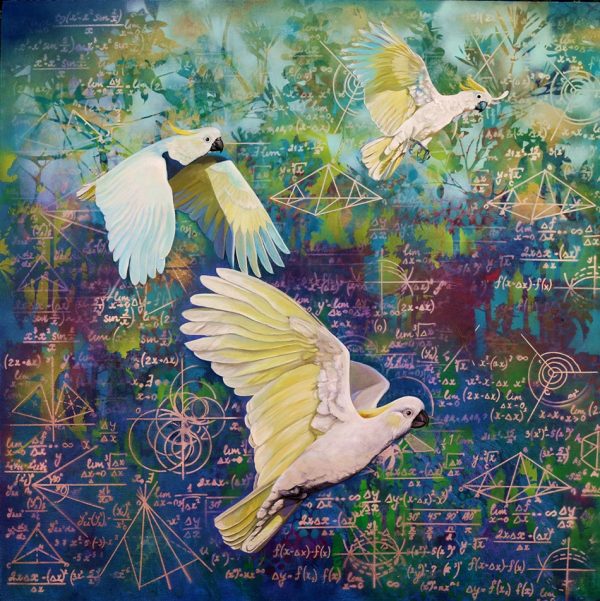 Learning to Fly, a diptych that depicts just a handful of the exquisite species of bird life in the region is a perfect example of this work; the colours of the birds' feathers are only enhanced by the dramatic colours in the backdrop, bold blues, greens, and yellows that make the birds pop off the canvas.
Magpie Family is similar in its dramatic use of saturated colour, showing the family of magpies that have visited Susan in her garden for years; she captures the character of these birds expertly, portraying their quirk and charm in every stroke.
Find the full range here at Art Lovers Australia.