Much of our customer service (CS) takes place across social media these days and, to keep up with this influx of customers, all the main channels have adapted. This has brought many new updates and changes in 2016 to help both businesses and consumers successfully use Twitter, Facebook and Instagram to solve their CS needs. Anyone who frequents these social media platforms will know they all come with their own positives and negatives. They even have their own demographics, meaning businesses need to be sure they're where they need to be. With more and more updates and changes coming in, it's important to keep abreast just-in- case the next big thing could be your next big thing.
How much CS takes place on social media?
Why do businesses need to care about the changes that come to social media platforms? Well the proof is truly in the pudding, especially when 33% of customers prefer to use social platforms to communicate with brands instead of using a telephone. Although that's not the overall majority, that's a huge chunk of customers whose complaint you might be missing, which could result in you losing them forever. This is especially important when research conducted by J.D Power proves that 67% of customers use a business' social media for CS purposes.
So it's clear that customers are using social media to voice their concerns. And, for the most part, businesses are using it to their advantage. On Instagram alone, 86% of the top brands in 2015 held an active account, which is 15% more than the year before.
We now know why businesses need to be present on social but what about the changes we talked about at the start? Let's have a look at the updates on the three big names:
What changes has Facebook seen?
Facebook continues to be the top social media platform (with the largest userbase by far) and creating accounts. However, it has been mainly viewed as a social media marketing tool.
This need to prove itself saw the implementation of many changes from 2015 onwards. Chat bots have been one of the highlights for CS this year and Facebook has certainly joined in. Facebook now allows businesses to create their own bots for Facebook Messenger, which allows companies to keep up with the ever-increasing amount of conversations on the application. These bots don't intend to replace actual human interaction but can speed up simple interactions by finding the answers to questions like "is this product in stock?" or "when is my delivery due?".
And that's not all! Businesses can promote how responsive they are to any messages. CS thrives on good response times (39% of social media complainers expect a reply within an hour) so being able to actually prove you're ready and waiting to answer customer queries can only be a good thing. Of course, if your business is bad at responding (shame on you!) you might wish to work on that, something this new feature will hopefully force businesses to do.
What about Twitter?
Not to be left out, Twitter has seen its fair share of updates to its CS features. Most recently, we've seen the introduction of businesses adding a layer of automation to their conversations. Businesses are now able to include a range of welcome messages. From there, users can also chose what their query relates to, so they can ensure they are being heard by the right team.
Not only have Twitter launched these welcome messages and other new features, businesses are now able display if they have a dedicated CS channel as well as its opening hours.
If you ever wanted to get a reply on Twitter onto everyone's Timelines, you had to start every tweet with a full stop before the user handle to be seen by all (and if you didn't know that, well, now you do!). Twitter will also be rolling out a new rule that all tweets beginning with a user handle will be visible to all. Businesses do need to be careful as a large majority of tweets sent to them will now be viewable to everyone and their dog, leaving nowhere to hide and increasing the importance, yet again, of a good response time.
And we can't forget about Instagram!
Out of all the top social media channels, Instagram isn't the one you'd usually think of in regards to CS. Although you can comment to your hearts content on your favourite (or least favourite) brand's posts, it can be harder to find your comment in the sea that is Instagram. But do not fear! Business Profiles and Shopping have been released to make customers' lives easier when interacting with businesses.
Business Profiles is a free feature that lets an account be recognised as a business, which then allows the said business to choose how they wish customers to get in touch with them. You can either call, text or email with just a tap of a button! Before this update, customers were forced to either comment on posts or click through to the actual business' website. After clicking on the contact buttons, customers will be given the option of either getting in touch or getting directions to that location. So not only can customers get in contact after seeing something interesting on Instagram (or complaining about a purchase), they can also use the app to physically visit the store/restaurant/business address. Neat, huh?
Alongside Business Profiles, Instagram have also released a way for users to shop on their app (can we hear all those bank accounts wincing in anticipation?). Before this development, many users struggled to find out more information about products they'd seen on Instagram, especially as Instagram limits the number of links usable. Like tagging posts, businesses will be able to add a "tap to view products" icon to any of their posts, for any products featuring in their photos. If a user clicks on any of these tags, more information about that product will be displayed within the app. Only if the user wishes to buy now, will they be taken to the website to process the order.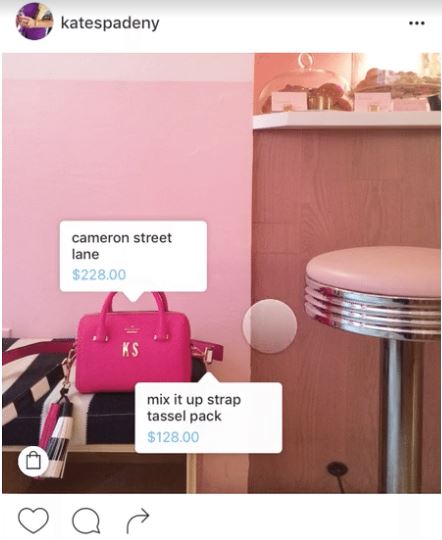 Now, speaking from the mind of an avid clothes shopper, this feature will lead to many more purchases. This is due to the process being no longer blocked by users having to leave the application and find the product they want themselves!
It is important to keep your eye on what updates social channels are releasing, as the next one could give you an edge over your competitors and be exactly what you and your customers are looking for.
CS is all about making a customer's life easier and with more and more of these features being released year on year, it's unsurprising that social media is seeing higher levels of CS traffic.
Businesses need to keep customers interested and by improving the service they provide on social, they can keep customers away from channels like telephony.