CrowdInk sat down (virtually) with Linda Vydra, founder of Pins to Kill, a custom leggings company that is taking the digital world by storm, to talk about online entrepreneurship, sustaining passion for business, and "global domination."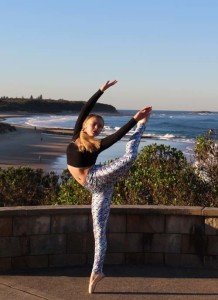 CrowdInk: What was the inspiration for Pins to Kill?
Linda Vydra: I loved sewing and making things and wanted to tell a story that resonates with an active, adventurous lifestyle. So our business is a combination of all of those things. We make custom leggings, but we also tell the stories of our brand ambassadors and customers. We provide a beautiful product for people chasing their dreams and working hard to get there. And then we profile our customers doing what they love on our website. These are dancers. These are rock climbers. These are ambitious women.
CI: So how does Pins to Kill actually work?
LV: The site is a platform for creation. People upload designs that they want printed on leggings. We open up our online shop on the 1st and 15th of each month and keep the shop open for ordering for 5 days. So we're only open for ordering 10 days a month. This is to assure that the quality of goods stays really high. It's just a better way to manage our ordering system. People have time while the shop is closed to finalise their design before they commit to it. We're also launching the ability to buy "Limited Edition" leggings that are designed by a bunch of different big personalities. On 1 May, Aspyn Ovard is partnering with us to release her leggings. They will be available for 2 weeks.
CI: What are a few of your favorite original designs that have come through?
LV: Oh that's the fun part – what people design! We created a pair that a guy designed for his girlfriend for Valentine's Day. That was really fun, because it was a bunch of photos from holidays etc. It was quite sweet actually. We have our own range as well, but you'll never know what people are going to want. And that's part of what sustains our passion for this business.
CI: What are your long term plans for Pins to Kill?
LV: Global domination. We want to get the brand out there. For right now, we're not doing any wholesale, because it helps us to maintain control over the quality. Which is important. But we want to be an international household name. It's all about scaling. Right now we will continue manufacturing locally and work in the studio. But we'd like to hire more people on board and get more manufacturing sites. It's about keeping quality while that happens, though.
CI: If you could give one piece of advice to entrepreneurs looking to really break into the online business world, what would it be?
LV: It's not gonna be easy. You've got to be 100% sure that this is what you want to do. We spent a full 12 months in development before we actually launched, because we wanted to be sure it was right. Be prepared to fail and fail again and then keep trying. If you're not in it, you won't succeed. See that long term vision and keeping looking toward it.
Check out the incredible site and products here.
Follow them on Social Media: