Jayne Rolinson expresses her passion for creation with words, almost as well as through painting. With every sentence the desire she has for connection with her audience is palpable.
As Jayne details her creative process, it's hard not to get lost in the world of positivity and possibility. Her art is striking and immersive. Every stroke beckons you a little further into the mind of a person who has found identity in land. It's not uncommon for Australian artists to bring forth their psyche with an exploration of country. And Jane's work is a welcome addition to that artistic endeavour.
CM: In a few words, describe your style?
JR: This question always make me stop and think. Who am I? How do I see myself as an artist and how others see me as an artist? I start all paintings with wild abandon. Mark making. Building up the layers. A time of no expectation, no pressure, just exploring a wild world of abstraction until a painting starts to emerge. It is really looking at the possibilities and working intuitively. Every painting has a concept, but it's not really revealed until halfway through the painting.
I suppose 'contemporary artist' might be used as a general word covering my style.
CM: What makes you stand out from artists that might paint in a similar style?
JR: I think finding your own voice and being authentic is key for an artist. A lot of artists may have a similar style because they love the same ideology, passion or inspiration behind the art process. Artists are constantly compared to someone else as it is the public's way of slotting them into a style or box that they can identify with.
CM: From where do you draw your inspiration?
JR: I live on a hill overlooking the land. Every day is a visual feast of sunrises, sunsets. Every day I walk along beach or with the dogs to the river on my block. I love the view from the hill, the vastness, the endless skies. I love the river that winds, trickles, floods with the changing seasons; the complex structure of nature always fascinates me. The windswept coastline is a visual feast. Feet in the sand, breathing in the salty air. Living so close with nature is such a beautiful way to spend your time.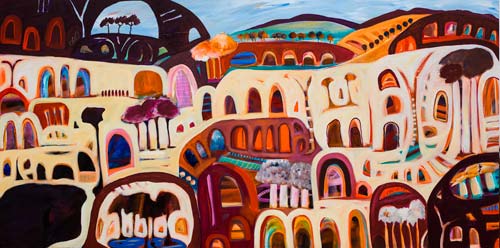 CM: What elements of media do you use on your works? Do different media's represent different things?
JR: I normally work with acrylic and oils with my artwork. I normally start with acrylic to build up the layers. Thick gestural marks, gesso, palette knife at hand. Oils are beautiful to work with. I love the richness of the colour. Mind you the drying time can be testing. Sometimes it is hard to find the same energy after waiting for the oil to dry between layers. I find when working with oils my artwork is a lot more open where in acrylic the artwork is a lot more structured. I really just go with the direction that the painting dictated. Sometimes it needs to be oil, sometimes acrylic. When under pressure to produce a lot of artwork I tend to stay with acrylics for the drying time.
CM: What are you currently working on?
JR: Landscapes and more landscapes. I feel living so close with nature everyday you get to feel the moods of the land, understand the complexities, the sacredness of water in the environment. The land is so harsh during the summer months yet when you stop and take a closer look it is full of colour and life. I love the colours that every season brings. Short burst of yellow from canola crops, wildflowers in bloom, green rolling hills to a dry, barren land that seems to sizzle in the summer heat.
CM: Are you in any exhibitions this year?
JR: Well this year has been full of challenges, deadlines and painting full-time. I am exhibiting from Cossack Art Awards, Karratha to Perth's first ever Art Market with 45 other artists in August. And I am exhibiting in New York in November. I normally join about 6 exhibits a year. Some juried, some I am invited to, some I just enjoy for the challenge. A solo was out of the question due to time so I will be planning a solo next year.
CM: Tell me a bit about Warrior Women with a Heart and Soul
JR: Warrior Women with Heart and Soul is a course that I run for women. Sometimes we just need to stop, get off the merry go round and find ourselves again; discover who we want to be and why. This course is designed to get us back on track, have a better understanding of ourselves and to head into the future with confidence, purpose and intention. As an artist I also facilitate art workshops. As much as I seek the solitude of a studio, I love running workshops, the friendships, the laughs and the discoveries we make wether in art or ourselves.
Like the seasons she is so fond of, Jane's work is ever changing. It's truly captivating to watch as her paintings unfurl their secrets, mirroring the moving and morphing world around us.