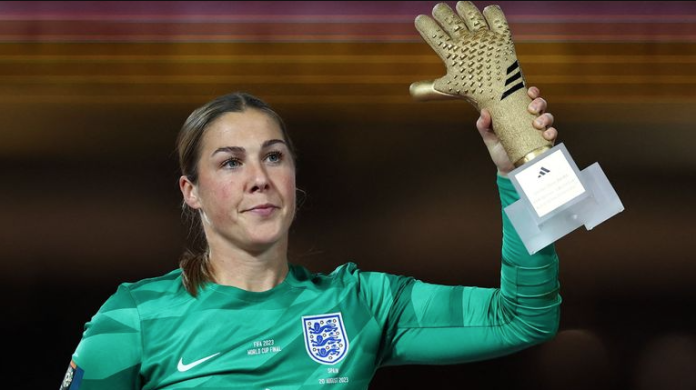 Nike's standoff with England's goalkeeper Mary Earps has reached a turning point, with the sportswear giant being compelled to reverse its earlier stance. The goalkeeper, a standout performer in the 2023 Women's World Cup, found herself entangled in a contentious dispute with Nike, as reported by The Sun.
Nike faced criticism from players and fans alike for its decision not to offer replica goalkeeper shirts during the Women's World Cup, leaving supporters unable to purchase the kits donned by stars like Earps during England's journey to the finals. While Nike's rationale centred around lower sales figures for keeper kits, recent reports indicate a shift in their position.
According to The New York Times, Nike has now conceded to produce limited quantities of goalkeeper shirts for retail sale. This announcement followed the resurgence of their disagreement with Earps, who took to social media to express her discontent after the brand's release of a statement – a 104-word message that aimed to address the goalkeeper shirt issue.
In their statement, Nike emphasised their commitment to women's football and acknowledged the enthusiasm generated by the recent tournament. They pledged to offer their best innovations and services to federation partners and athletes, while also acknowledging the demand for retail versions of goalkeeper jerseys. Nike expressed intentions to collaborate with FIFA and the federations to find solutions for future tournaments.
However, Earps found this response lacking. She expressed concern for her family, friends, and supporters who were unable to obtain her official shirt. This absence of availability led to individuals resorting to regular clothing instead of proudly donning her kit. Earps believed that the message conveyed was disheartening for goalkeepers worldwide, suggesting that they were being marginalised.
The goalkeeper disclosed her ongoing efforts to negotiate a resolution with both the FA and Nike. Despite her remarkable performance in the World Cup, which included clinching the golden glove award and saving a crucial penalty during the final, fans remained unable to access her official merchandise. This predicament even extended to her parents, who resorted to wearing match-worn jerseys at a recent match.
Responding to Nike's stance, Earps' own clothing line seized the opportunity to cater to her fanbase, leading to a swift sell-out of their designs. Additionally, an external company ventured into the arena, offering an "100% unofficial" shirt featuring the England badge alongside Earps' name and number. The shirts notably sported the altered phrase "Just did it" in a playful jab at Nike's iconic slogan, providing a playful twist to the discourse.