You may have noticed over the last few months a certain craze hitting the streets around the globe. Doughnuts used to be a simple treat to be eaten with your afternoon coffee, now they are an entrepreneurs dream with small doughnut shops opening up and taking over the dessert industry in the blink of an eye.
The once humble snack has gone gourmet with pastry chefs creating upmarket versions of the traditional delicacy, using sophisticated ingredients to catch your eye. It's not only filling the doughnut with something delicious but making sure the outside looks just as appealing. I'm talking about toppings like, M&M's, Oreo, Ferrero and Tim Tams all placed on top of various icing flavours.
These days you can find interesting and mouth-watering variations on the original jam doughnut almost everywhere you look with brands taking advantage of the craze and adapting to what the public wants.
However, this type of dessert is not exclusive to a particular culture, in fact there are many different variations on this delicious treat from different cultures around the globe.
The first variation is Greek Loukoumades. These are one of the oldest recorded pastries in the world and a traditional dessert. They are essentially deep fried doughnut balls coated in honey and cinnamon. These days, Loukoumades are being served with many different options of toppings including milk chocolate, caramel, hazelnut chocolate or dark chocolate. However there's nothing quite like the traditional when it comes to these fluffy balls of doughy goodness.
The second variation is the Italian Bomboloni. This is in the shape of a doughnut but without the hole in the middle as instead they are traditionally filled with vanilla custard and dusting with powdered sugar.
Again, present day variations can be found with chefs creating new ways to serve the traditional Bomboloni like covering them with cinnamon and sugar or dousing them in melted chocolate. It has also become common to swap the vanilla custard on the inside for something less traditional like milk, dark or white chocolate.
Another variation on the traditional doughnut is the French Beignet. This one is known for its square shape that can resemble a fluffy pillow, however, still lives in the doughnut family due to its fried consistency.
These pastries can be filled with custard or chocolate however are usually just sprinkled with various toppings such as icing sugar, cinnamon, sugar or chocolate.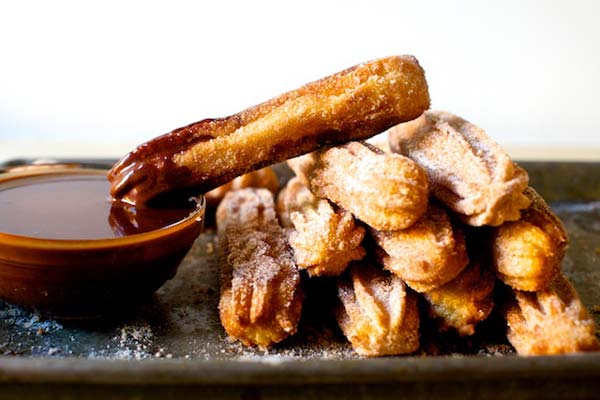 Finally another variation from Mexico are the Mexican Churros. These do not resemble a traditional doughnut at all as when they are deep-fried they are done so in a stick form rather than a ball. They are then sprinkled with cinnamon and sugar and re served to eat with a warm chocolate dipping sauce. These days churros are a popular dessert in many other places other than Mexico such as Spain and Portugal. Restaurants that serve these desserts often provide a variety of different dipping sauce flavours including caramel, milk, white and dark chocolate and honey.
These are some amazing variations on the traditional doughnut coming from different cultures. Be sure to indulge in one of these sweet treats if you have the opportunity, trust me you won't be disappointed.
Tell us about your variations on the modern day doughnut in the comments below.