2016 was the crumbiest of the crumbs as far as years go. I don't need to remind you of the endless shock and tragedy we all witnessed. It was like stubbing your toe on the same piece of exposed brick time after time, never learning from your mistake, only repeating it, in turn deepening the wound and hating yourself a little bit more each day.
Right?
The good news was that Panda bears are no longer endangered. This is great news for Pandas everywhere. Mainly in China, where they live.
Though the panda news was fabulous, all of last year I found myself dreaming of laying on a beach, far away from the problems of the present. With 2016 now a few weeks in the past, I think it's time we took a little holiday to celebrate our escape.
Alas I cannot afford a paradise abroad, but what I can afford, is staying right where I am and making the most of what I got. And what I got, ladies and gentlemen, is the Mornington Peninsula. And you can have it too.
Here are my top five things to do on the Peninsula if you find yourself there this Summer.
1. The Pillars
The locals are going to give me a caning when I go home and yeah, it's probably going to sting a little but what's a gal to do? I want to please the people and revealing this hidden gem will certainly please you. The Mornington Peninsula begins where Frankston finishes and spans through to Portsea. It's a scenic drive along the esplanade from Mornington and I couldn't recommend it enough. The Pillars, found in beautiful Mt Martha, are essentially a cliff face reminiscent of that you would find on the coast of Italy. Nice. You can jump off the rocks and dive into crystal clear waters if you're keen for adventure but if not, you can simply enjoy the stunning view ahead.
2. The Enchanted Adventure Garden
Full disclosure I am biased towards the Enchanted Adventure Garden as I worked there for four years after high school. But I promise it's a real good time. If you have a young family or some oldies in tow, I would recommend the general admission pass, which grants you access to the various mazes, gardens and tube slides contained within the property's five-hectare expanse. If you have teens or kiddies over 4 years of age, opt for the tree surfing.
The park offers a grand course for adults and a nippers course for little ones under 135 cm. They are an extra fee but are definitely worth it to see how far you can push your body! Not recommended for those with a fear of heights! Prices start at $19 for seniors and children over three and $29 for adults.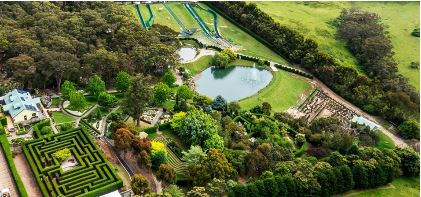 3. Flinders
Flinders is a sleepy but oh-so- scenic town with great surf and walks for you outdoorsy-types.
If you want to go exploring and indulge your inner child, then head to Kerry Greens where there are beautiful rock pools to play in.
4. Montalto Vineyard and Olive Grove
Wineries in this region are multiple but my favourite is Montalto. Set facing the beautiful vineyard, Montalto boasts a chef's hat rated restaurant as well as a pizza café for a more relaxed experience. If you aren't on a budget then this place is a must. If you are, I hear there is a really great McDonald's in Rosebud.
5. Emu Plains Market
Over Summer a beautiful market to rival all others pops up at the bushy Balnarring racecourse. An artistic assembly of local creatives flaunting their talents, as well as food and beverage stalls makes for a beautiful expedition as you lazily wander from maker to maker perusing the wears and admiring the beauty on display. From jewels to craft cider the market has it all and it's a truly lovely way to spend an afternoon.
Be sure to visit the talented Chloe Sophia Jewellery stall, a gold and silver smith specialist who is a new resident this Summer at the market. Dates and times can be found at emuplainsmarket.com.au.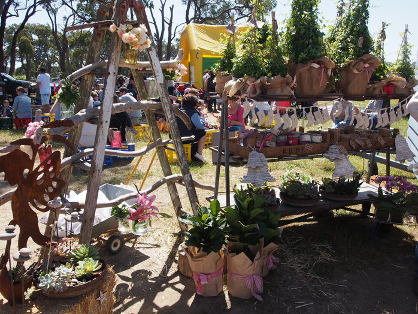 Enjoy your escape my sweet adventurers!