MasterChef prides itself on its ordinary people and extraordinary food. But we're onto our eighth season now, and the technical level of these dishes is just getting ridiculous.
The latest season of MasterChef Australia kicked off on the 1st of May, and from what we've seen so far, the contestants are anything but ordinary. Haven't caught a glimpse of the advertisements yet? Here's one of the dishes;
Gone are the golden days of season one with Julie Goodwin, the home cook we actually believed was indeed a home cook. The dishes in the first season were significantly easier to wrap your head around, but still provided an adventurous twist to spice up a weeknight meal or impress guests at a dinner party.
We're far more likely to have a crack at Gary's Fried Rice or Julie's Hot Salami Pizza than Heston Blumenthal's season 7 Botrytis Cinerea, with its 23 elements and 120 ingredients. We're wondering why they even bothered putting that one up on the website.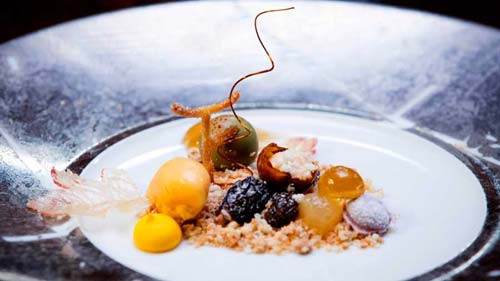 It's not just the pressure tests that are getting out of hand, though. The contestant's dishes, such as the black-Vader-carbon-powdered Golden Egg and the all-too-lifelike edible Campfire, are sending us scoffing in disbelief. Where did Network Ten find these 'amateurs'?!
MasterChef isn't connecting with the masses anymore – it's making us look bad. We know it's not Jamie's 15 Minute Meals, but almost every dish from the latest seasons has ingredients we don't have, can't find, or don't feel like spending our entire week's housekeeping on.
We'll admit it; it's still a show we can't help but watch. Even though the food doesn't really look like food anymore, it's an art form we love to ogle, mouths gaping. It's also refreshing to see a reality TV show powered by people who are (actually) talented. But, please, don't try to tell us it's got anything to do with accessibility.