As a vegan, you can be presented with all sorts of challenges. These are basically based around people's misconceptions about vegans and what a vegan diet involves. I must admit, before I followed a vegan path, I was guilty of the same judgements. I was under the mistaken impression that all vegans wore cheese cloth, burned incense and ate a vast amount of lentils. It just shows how wrong I was. Basically now, for me, a vegan diet is about consuming food that is filled with taste, colour, flavour and love. It is delicious, good for you and can be just as indulgent as non-vegan food.
I always love it when I find foods that are vegan, but no one thinks of them as vegan. No one would have a clue. They are perfect for entertaining and everyone loves them, regardless of what your eating preferences are. One of those dishes is guacamole. I simply love guacamole – I adore it.  On some evenings, such as tonight, when I am feeling super lazy, I know that it is a minimal effort dinner, but one that still feels like an indulgent treat. Throw some Turkish bread in the oven, get your guacamole and life is good.
It is a fabulous dip to take to a friend's house when you have been invited over; it is perfect for an afternoon in the sun with a few drinks – it just has so many uses. When you turn up with a fabulous bowl of guacamole no one politely grimaces or mutters under their breath about those who follow trendy diets. Generally people dig in and everyone will think your guacamole is fabulous.
Unfortunately it does not help with the main course, because despite how fabulous your guacamole is, most people will look at your oddly if you get stuck into a bowl of guacamole for your main course. I still not have come up with a quick fix for the problems that a sociable BBQ presents.   When it is time to eat, no matter how you put it, when you request some onions and a wee bit of roast capsicum for your plate, you will get asked in a shocked voice, "What you don't eat meat?"  "How on earth do you get your protein?" "You sure you don't want a little bit of steak?" etc etc.   So the BBQ problem is one that I have not yet found a solution for. Maybe mushrooms might do the trick?
This guacamole keeps beautifully until the next day and I love the leftovers for lunch. Though to be honest, I rarely have leftovers with this one. Add a glass of red and a new series on Netflix and I am in my own little piece of heaven.
Loaded Guacamole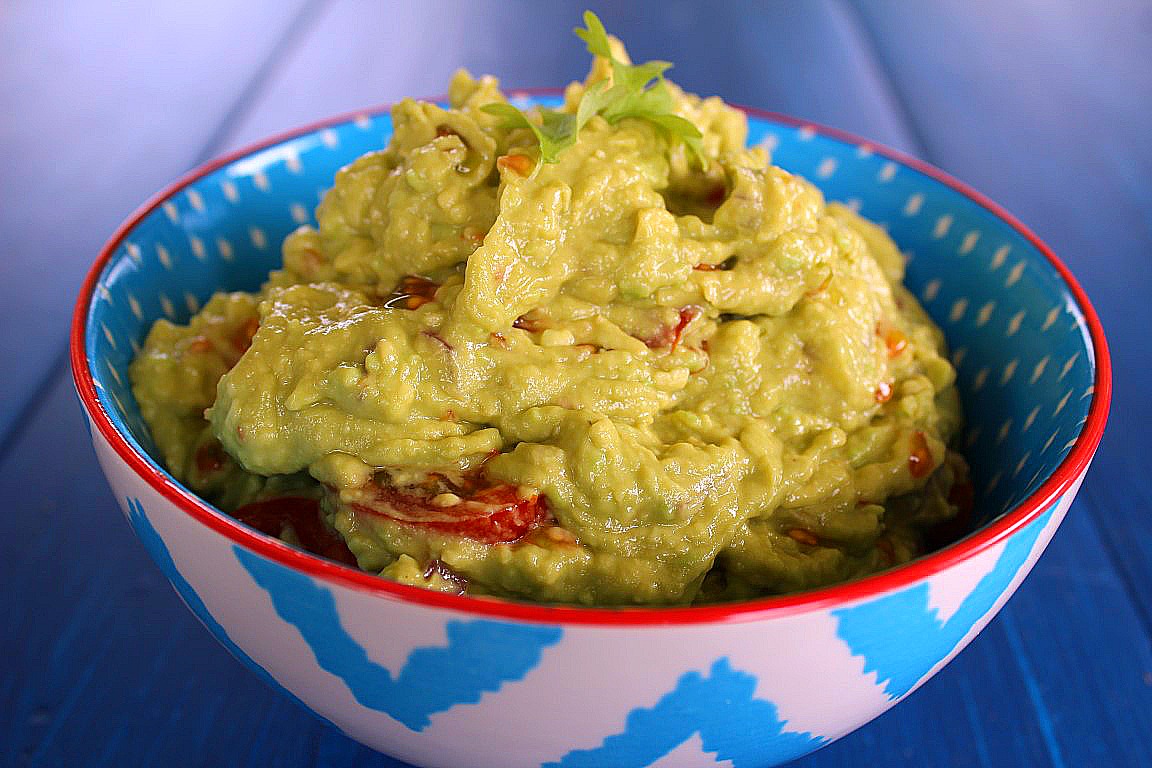 3 Avocados, halved and seeded
Juice of one lime
Salt
1/2 teaspoon ground cumin
1/2 teaspoon cayenne
Few drops of Tabasco sauce
1/2 medium spanish onion, finely diced
Few slices of jalapeno pepper, finely diced
1/2 punnet cherry tomatoes, quartered
1/2 bunch of coriander, finely chopped
1 clove of minced garlic
In a large bowl place the avocado flesh and lime juice.  Toss until coated.   Pour out lime juice and reserve for later.
Add the salt and pepper (to taste), cumin, cayenne and Tabasco sauce and mash.
Fold in the onions, jalapeno, tomatoes, coriander and garlic.
 Add remainder of lime juice and more salt and pepper to taste.
 Cover and leave for an hour or so at room temperature.