Picture this: you have decided to start your own wine collection, and you've kicked things off in fine fashion with the purchase of an entry-level bottle of vintage Penfolds. An occasion worth celebrating pops up – it could be landing that dream job or a milestone birthday – and suddenly it's time to bring out the vintage. After taking that first sip, you realise that something isn't quite right, and that bottle of vintage (and your money) ends up going down the drain.
Whether you're a budding collector or an established 'winethusiast', storing your wine collection correctly is far more important than you'd think. Everything from temperature fluctuations to UV light and vibration can have a massive effect on the quality of your wine. If you've invested in a fine wine collection, it makes sense that you should invest some time and money into protecting and preserving it – after all, a wine collection is one valuable asset. That's why it's worth splurging on a specialised wine fridge, which is specifically tailored to store and age your wine so it maintains its taste and longevity. If you've invested in quality vintage wine, such as these top picks for 2019, it deserves to be kept in optimum conditions for those special occasions and impromptu celebrations.
If you'd like to elevate your wine storage game, look no further than Grand Cru's BLACK range, which combines innovative technology with sleek and sophisticated design. The compact size of the best-selling BLACK 46DB is perfect for budding collections with its 46 bottle capacity, and the dual temperature zones mean you can store both red and white wines in their optimum conditions. The small and sleek design has been a hit, with many customers noting that the fridge looks great and works well while also fitting perfectly under their kitchen bench. If you're looking for something with more space, try the popular BLACK 166DB– the regulated humidity and temperature control features will keep your wine in good shape for years to come, and the 166 bottle capacity gives you an excuse to splash out on some new additions to your collection.
Happy customers such as Tony say that the model 'superseded his expectations', claiming he 'couldn't be happier with the look and performance of the unit'.
Want to take your wine storage to the next level? Look no further than the sleek and chic BLACK 194PB, which includes fancy features such as on door digital temperature setting and an impressive 194 bottle capacity.
The modern black finishmakes it unique, 'couldn't find any other black look units on the market…Grand Cru has really completed our look'.– Craig
Those who are serious about their wine storage will find their match in the BLACK 332QB; with seasonal temperature care and in-cabinet touch control pads, this best-selling model is the piece de resistancefor wine enthusiasts. Don't take our word for it – vino-loving customers note that the 332QB exceeds 'all expectations on quality, features and its impressive status'in their home. The 332 bottle capacity will be no easy feat to fill, so gather some inspiration from Grand Cru's list of perfect wines for a variety of occasions.
It's no secret that wine and food make a perfect pair, especially when it comes to this unexpected combination, but with so many options out there it can be difficult to find your ideal storage solution. Grand Cru have got you covered with their Wine Fridge Finder questionnaire – answer questions about everything from desired storage capacity to energy efficiency, and the experts at Grand Cru will assess which model will make a perfect pairing with your wine collection.
While you could spruce up your home décor and express your love for wine with some vino-themed art, what better way to complement your wine collection than by investing in some quality accessories? As one of Australia's leading providers of premium wine fridges, storage may be Grand Cru's bread and butter, but their variety of top-of-the-range accessories are here to enhance your wine experience. Think Coravin Wine Preservation systems for wine aficionados, Vinturi aerators for those who are interesting in decanting and an extensive range of Plumm and Riedel glassware for all occasions. Keep your eyes peeled for the soon-to-be released FRANC, a wine storage monitor that continuously checks and notifies you of your wine fridge's temperature and humidity levels, wherever you may be.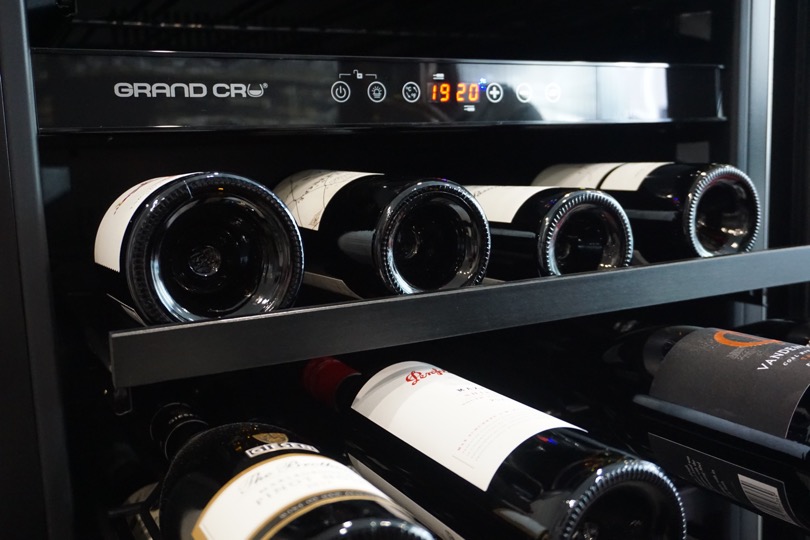 No matter how big or small it may be, every wine collection deserves the gold standard when it comes to storage. A premium wine fridge from Grand Cru is essential if you are serious about protecting and maximising the value and longevity of your wine collection. If you are interested in investing in one of your most valuable assets, visit www.grandcruwinefridges.com.au to explore their innovative range and find the perfect wine fridge for you.