It was a cloudy Friday afternoon in North Bondi when I sat down in Inder Dhillon's studio munching on popcorn and dried chickpeas that fuelled an afternoon pick me up. We had just wrapped up a couple of looks that were styled and photographed by the Canadian born fashion designer, where she took one piece from my wardrobe and fused it with her collection.
Dhillon's eye is sharp and playful as she both contrasts and compliments soft and bold colours, balances textures of cashmere and merino, dictating the positive and negative space on and around the body. The clothes are her orchestra, she is the conductor – the musical piece sounds effortless. A former student at Parsons School of Design and graduate of Fashion Design at Sydney Ultimo, I find out where it all began with the knit-lover.
B. Kor: Where did your interest in fashion begin?
Inder Dhillon: I don't think it is so much an interest in fashion as it is an interest in creating. I find textiles and fabrics and their applications really interesting. In the '90s my family had a textiles factory and I can't even remember when I started sewing. It would have been as a toddler. I think I made my first dress when I was in grade two.
BK: What inspires you to create?
ID: Everything about the human body and movement inspires me and I think I want to respect that in everything I create, so it's not fighting with that movement by any means.
BK: Do you have a uniform when you're working?
ID: Absolutely. I will never dress myself in something that makes me uncomfortable, because I feel that transcends into all your mannerisms. I'm big on reading case studies and being informed, and there was this thing about how successful people will have a go-to uniform. First of all, it creates your personal brand in the essence of them having their own image, but secondly – it's one less decision that they have to make. They would rather apply that subconscious energy into creating, or that subconscious thought-process into nurturing some other thoughts rather than allocating so much of your time to, 'What am I going to wear?' That's what I think the ethos of my design is – creating things that people can just effortlessly and seamlessly insert into their wardrobe without making it a big thought process.
BK: What's your favourite meal?
ID: Oh my God, pizza. Pizza – all day, every day.
BK: What are your favourite materials to work with?
ID: I love sewing wool, because it's really easy to handle – you know, keeps in shape. I love designing because of the drape and fluidity of silks, but my heart's in knits, man. It's just being able to design something – especially with today's modern age – where you've got knits that can be digitised so you're basically coming up with a concept and it's all being programmed so this fibre is woven into a yarn, then created into this very specific garment. That's amazing.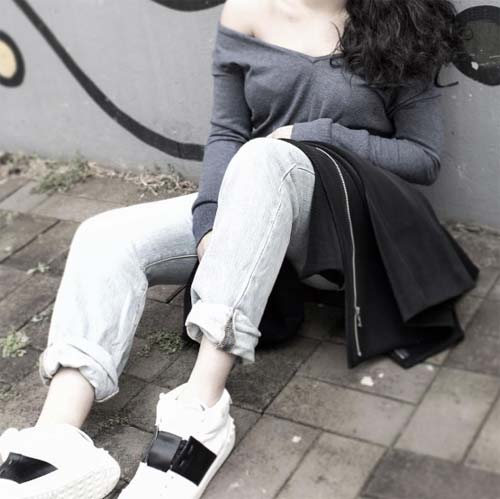 BK: Who inspired you the most growing up?
ID: I would have to say my parents. It's so cliché to say your parents. My parents have always been entrepreneurs. My ability to take risks comes from them. My ability to work really hard comes from them.
BK: What's the best advice you've gotten?
ID: My favourite quote of all time is, "It took ten years to become an overnight success" and I remember that often. It's that whole realisation that you wouldn't get to that one point unless you had done all the learning you did to get to that point and that never happens overnight. It's a progression.
Catch more of Inder's work at www.inderdhillon.com.au.