Keegan James, his sister Terri and their new friend Tosh, a 150-year-old teenager, are embroiled in a series of adventures – starting when Keegan is kidnapped and thrown into the slave mines of Kilimanjaro.
Their path to escape leads them on an adventure to find the Dragon's Heart Amulet, but they are not the only ones searching for this treasure….
Written by Melbourne-based author Peter Leslie, the Keegan James adventure series of five books is about two Australian children, Keegan and Terri, who travel the world on their various quests to save the planet. They encounter mythical creatures along the way, ranging from an Australian bunyip to a Scottish Loch Ness monster. Some of the creatures become friends, and others are bent on preventing them from succeeding in their quests.
Aimed at children aged 8 to 18, the series aims to inspire children to tackle what may seem to be impossible challenges, and ignite a passion for learning about the unknown and travel.
"Initially it was just one book. But it ended on a bit of a cliff-hanger and I knew there was more to write," says Peter, who wrote all five books before releasing them so that his readers did not have to wait for the next adventure to be written.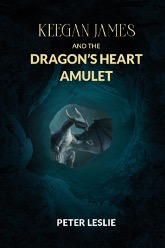 ABOUT THE AUTHOR
Peter Leslie grew up in a large family (the seventh of eight children) in Canberra, and while English was among his least favourite subjects at school, he preferred spending his time in the library than on the sporting field. He fell into a job in the computer industry after high school and has worked in IT ever since. He has travelled extensively, and has lived in the US and Czech Republic, before settling back in Melbourne.
Having previously dabbled in writing poetry and illustrated children's books, in 1999 – to combat insomnia – he started writing short stories, and one night the Keegan James story started to emerge on the page.
He describes his writing style as "the books write themselves using me as a conduit" and while there are many autobiographical elements in the series – the main characters are from a large family growing up in Canberra – he is just as surprised as his readers to see where each adventure unfolds.
The Keegan James adventure series is self-published.
Author Peter Leslie is available for interview.
Photos of all 5 book covers and photos of author, Peter Leslie visit: https://lloc.egnyte.com/fl/ML8vKeosvG