Hotel Grand Chancellor Adelaide has offered its guests precisely that since it opened in 1991. And while it has had name changes and upgrades before, this year has seen the hotel embark on a significant refurbishment program that also delivers on a commitment to environmental sustainability.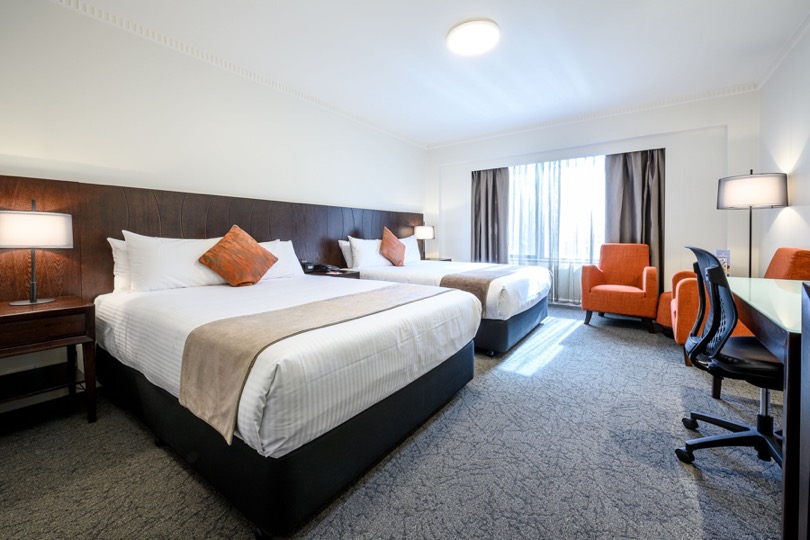 A leader in deluxe hospitality, the iconic Hindley Street venue has been keeping a secret and is set to launch its latest collection of renovated rooms, plus other upgraded services and facilities throughout the hotel, in early September.
The springtime launch heralds the introduction of a new 4.5-star rating to complement the updated and increased accommodation offering. The 220 rooms (up from 208) now have something for everyone, be it families, business travellers, or couples.
The range of room categories includes Executive Queen, Executive King, Executive Twin, Executive Plus, and Corner Connecting Rooms.
All rooms have been individually assessed and redressed accordingly. Think natural light from large picture windows, brighter decor, energy-efficient LED room lighting, new furniture and furnishings, modern artworks, large work area with ergonomic chair, and updated individually controlled room air-conditioning.
Bathrooms have also been given a makeover with water-saving fixtures (tapware and toilets), refurbished vanity units incorporating square basins, and many now featuring walk-in showers.
The refurbishment program also extends to increasing the comfort of guests elsewhere in the hotel.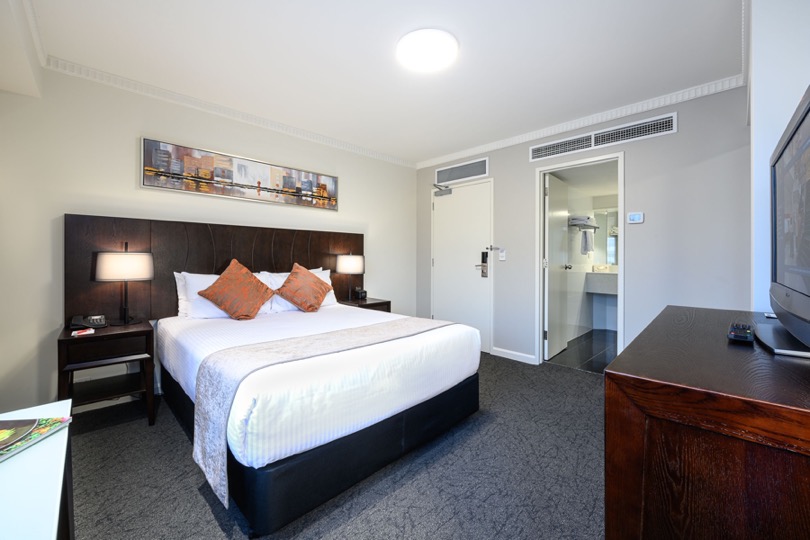 This includes a hotel-wide air-conditioning upgrade with the inclusion of new rooftop chiller units that are 50% more water and power efficient. New, power-regenerative lifts have also been installed featuring beautiful photographic wall panels highlighting SA tourism and its natural wonders. These modern lifts draw power when in use and regenerate power when they're idle.
There is also the opportunity for guests to experience the best of SA's food and drink. A 2017 commitment to source wholly local products that promote quintessential South Australian goods is now in full swing allowing guests to enjoy and experience a bite-size piece of SA while never having to leave the hotel. Think Haigh's Chocolates, Farmers Union Iced Coffee, Bickford's Soft Drinks, Charlesworth Nuts, beverages from the likes of Coopers, Vale Ale, and Prancing Pony, and for wine connoisseurs, Henschke, Rockford, Jacob's Creek, and Penfolds wines.
Hotel Grand Chancellor Adelaide guests have long been impressed with its amenities including extensive conference and meeting facilities, heated pool and stunning pool deck, sauna, spa, gym, Bistro Sixty5 restaurant, and Sebastyan's street-front bar. However, its proximity to all that's happening in Adelaide is part of the charm of staying at the hotel.
Being located on Hindley Street means it's convenient to the Adelaide Oval, Festival Theatre, Adelaide Convention Centre, Adelaide Casino, Museums, Galleries, Adelaide's new medical precinct, and Rundle Mall. The city's vibrant small bar scene featuring Leigh Street, Peel Street, Bank Street, and Gilbert Place is merely minutes away, as is the Adelaide Central Market and Gouger Street eateries via a short tram ride.
Hotel Grand Chancellor Adelaide will launch it's upgraded rooms and amenities in early September.