Just near South Yarra Station lies a restaurant that you couldn't miss if you tried. If the name Guzman y Gomez taped in big yellow letters at the front against black tiles didn't catch your eye, the smell of hot tortillas and chilis wafting out into the street would be sure to catch your nose.
Located just a bit out of the CBD, but still close enough to Chapel St that it's perfect to tuck into during a day full of exploring the area, Guzman Y Gomez is fast and fresh food that puts a new perspective on Mexican food for the Melbourne crowd.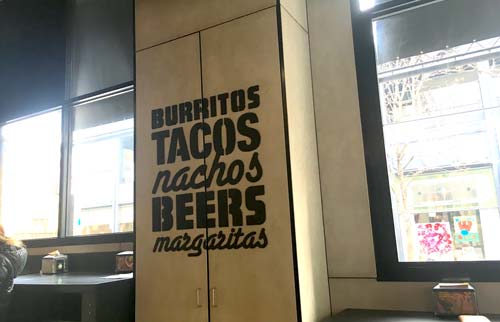 Upon walking into the restaurant, you're greeted with a high ceiling with bright lightbulbs dangling down to illuminate the fun and friendly atmosphere. The staff greet you with bright smiles as the catchiest beats play in the background to add to the relaxed ambiance. In our case, Tammy, the wonderful owner of South Yarra's GYG, eagerly engaged with all of the different options on the menu, noting that the Nachos are usually popular with the evening crowd.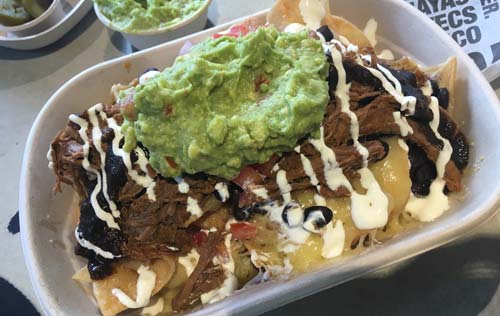 Tammy brought out Beef Nachos to start and we immediately understood why this is a house favorite. Filling enough to share (albeit grudgingly), crisp, tortilla chips are loaded with black beans, cheese, guacamole, moist and perfectly cooked beef, sour cream, and their incredible Pico de Gallo (fresh chopped salsa).
There's a complementary salsa station complete with as many chopped Spanish onions, pickled jalapeno slices, and pinches of fresh coriander you can sprinkle on your dish. There are also three fresh salsas to choose from: roasted jalapeno salsa (mild), smoky chipotle salsa (medium), and the habanero salsa (hot).
If you're a spice fanatic, that habanero salsa is the way to go. Perhaps our only regret was not bringing a bottle to sneak some away with us.
Guzman Y Gomez's perfectly balanced guacamole comes with every dish. In an age where avocadoes are somewhat of a Millennial indulgence, GYG invites you to indulge. Smooth and filled with the real stuff, the trick is getting a bit of guac in each bite.
Drinks are relatively straightforward and tie in the best of both Australian and Mexican cultures. Fancy a Corona? Or perhaps you're interested in a frozen Margarita? No worries; the staff at GYG have your back with cold beer at hand and margaritas that aren't too tart, aren't too sweet, and are certainly strong, but not overwhelming. A surprising find in a fast food place – which we quickly realized is something Guzman Y Gomez does often and does well.
Speaking of surprises – as more food begin to roll out, Tammy stops by and starts explaining that the Corn Chips are one of GYG's most prized menu staples, taking over 18 different attempts to create deliciously light, crunchy, and yet oh-so-fresh chips. Prepared daily, don't expect soggy or greasy. These chips are the perfect vehicle for moving that guacamole from bowl to mouth.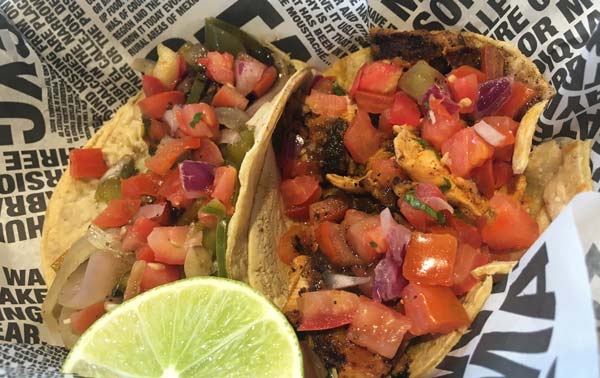 Enter our "next course:" Chicken and Veggie Tacos. Filled with tomatoes, Spanish onion, and green capsicum sautéed to perfection (soft, but crisp in the centre), covering moist chicken and wrapped up in two warmed tortillas, these are not your ordinary tacos. Mild enough for kids and adults who want to stay away from heat, we (fire-eaters by nature) also discovered they were a pretty partner for that complementary habanero salsa mentioned above.
After we finally looked up from devouring the chicken and veggie tacos, Tammy let us know that GYG works with local farmers and only believes in the finest and freshest ingredients that are sourced daily to preserve the authenticity of Mexican food with the wholesome goodness of Australia.
And given the sheer quality of the meal, it all started to make sense.
GYG goes beyond the typical perspective of a quick 'on-the-go' fast food and recreates the meaning of what real Mexican street food culture is with an endless amount of fresh choices.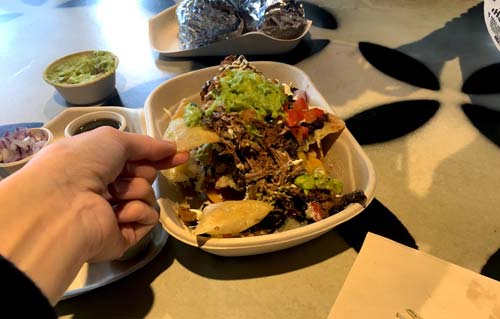 Next time you're rushing to South Yarra Station, don't pass by. Let the smell of spice lure you in. Besides, where else can you get unlimited serves of jalapenos?
Guzman y Gomez
Shop 6 & 7 190 Toorak Road South Yarra VIC 3141 | Tel: +61 438 660 836
Open Sun – Thur: 10:30AM – 10PM , Fri – Sat: 10:30AM – 11PM