Victoria's at Ewingsdale isn't just a stunning property in the idyllic Byron Bay region. It's a completely personalized experience that Victoria and Raemon McEwen have poured their whole hearts into since they opened their doors in 1995. Victoria's at Ewingsdale is a space of surprise details, gourmet tastes, and absolute luxury – whether that definition includes meandering promenades around the 4 acres of tropical landscapes or lounging in Victoria's lush poolside paradise.
The Byron Bay region is hugely popular as a beach holiday destination, so the duo knew that Victoria's at Ewingsdale needed to go above and beyond the surrounding accommodation options to deliver the best possible experience. In a sea of high-rise, strictly modern and contemporary-style hotels, the Ewingsdale property takes us to Old World Europe on Australia's east coast. This is a holiday away from the contemporary – days spent at Ewingsdale are a reprieve from the mundane. Everything from the gardens to the interior décor exudes meticulous attention to detail that just feels like the perfect blend of home and heaven. Even the paintings lining the walls all come with a story of the owners' travels and some of them are even Victoria's own works!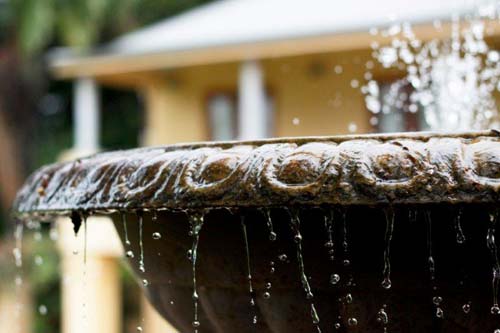 Victoria herself lives on the Ewingsdale property. Every moment of a guest's experience is tailored to the needs and wants of that particular guest. How often is the owner of a luxury property one of the first people you meet when beginning your stay away? From check-in to carefully crafted seafood platters in the garden to recommendations for ways to fill up your day away from the property (though why would you leave?), Victoria is available for nearly all guest needs. She even trains all of the other staff herself!
Ewingsdale is situated on four acres of landscape property. It is 6km from town and is really an escape from the daily grind. It's not unusual to spot koalas in the trees on peaceful property, but is still close enough to town to enjoy all that Byron Bay has to offer. And if you crest the hill on the property, you are treated to stunning vistas of the town, lighthouse, and the ocean beyond.
An ideal location for couples looking to holiday, Ewingsdale is also the ultimate venue for weddings. Able to host functions for up to 70 people, all details can be arranged by artisans in the area that have been vetted by – you guessed it – Victoria herself.
So what do you do with a weekend or even a week of idyllic scenery and lush décor? Whatever takes your fancy. Care for an in-house massage? How about a champagne breakfast underneath a grapevine trellis? Lounge by the pool or head down to the lighthouse, the most easterly point in Australia. It's whale watching season at the moment, so you're nearly guaranteed to glimpse one if you can tear yourself away from the property long enough to venture out. Bangalow, a nearby town, is filled with galleries, farm-to-table restaurants and cafes, and quaint shops to while away hours in.
Give Victoria a call and book now. You deserve it.