Solerno Blood Orange Liqueur was created by Master Distiller Leslie Gracie, best known for creating Hendrick's Gin.
Tasting Notes: The nose bursts with whole-fruit blood orange, orange blossom and a hint of bright and zesty lemon. The palate yields a velvety sweetness, balancing tartness, and a lasting, dry finish.
Solerno Serata
45ml Solerno
2 dashes of orange bitters
30ml pink grapefruit juice
Topped with 60ml of sparkling water
Build in a stemless wine glass filled with ice, stir well and garnish with a blood orange slice and sprig of rosemary.
Blood Orange Espresso Martini
30ml Solerno Blood Orange,
1 shot of fresh coffee (approx 30ml)
10ml sugar syrup
Shake and serve in a martini glass or coffee cup. Garnish with a slice of blood orange.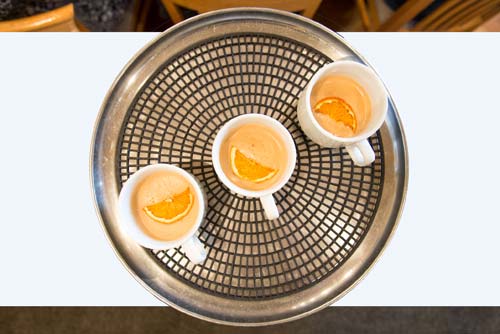 Lucio's Blood Orange Negroni Sbagliato
juice one small (or half a large) blood orange
30 ml campari
30 ml red vermouth
dash of prosecco
slice of blood orange for garnish
In a tumbler, place a slice of blood orange then fill the glass with ice.
Pour in Campari, red vermouth, and blood orange juice, stir to chill. Top with a dash of prosecco.
Enjoy!